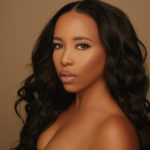 Music to heal by is the theme of this conversation with Coline Creuzot. coline joins Mark Alyn for a talk about how music can help relax people during times of stress, such as the Covid19 pandemic. Coline's single "You Tried" is number 22 on the Billboard R&B Charts.
When Coline Creuzot takes the stage to perform a switch flips and the nervous energy disappears. Her petite 5'2" frame and astonishing voice, impressive dance skills, and powerful lyrics captivates audiences immediately. If it isn't her dynamic personality or her creative drive, Coline's angelic voice and passion helped her win many competitions that led her to a deal with the largest music publishing company in the world, Sony ATV.
Coline Creuzot's current single "You Tried It" is currently no. 22 on the Billboard Adult R&B charts, up to two spots in only two weeks! This songbird is no stranger to the charts, as she's had two other singles climb to no. 1 for more than seven weeks.
A native of Houston, Coline is a singer/songwriter with the distinctive ability to master multiple music genres. Coline has collaborated and shared a stage with some of the top names in Hip-Hop and R&B. She's opened for industry heavy-hitters like Drake, T.I. and Keyshia Cole, and collaborated with iconic Houston rappers Paul Wall and Slim Thug. Both of whom she credits as supportive figures in her career.
Music has always been her passion. Rather than playing with dolls and toys like other young girls, Coline performed songs and dance routines by age three. She spent
summers taking classes at Houston's legendary Ensemble Theatre and sang with the church choir on Sundays.
She was writing and performing her original songs in local competitions by age 10, and continued throughout high school. Her unyielding passion for music continued to manifest while attending Hampton University. Immediately after earning her Bachelor'sDegree in Business Administration, Coline began to focus on her music full-time.
Coline teamed up with Grammy Award-winning multi-platinum producer Happy Perez(Miguel, Frank Ocean, Mary J. Blige) for her first single, "Give-And-Take." The song climbed the Houston airwaves for six straight weeks, peaking at the coveted number one spot on the charts. To continue this momentum, Coline released mixtapes "Head Turner" and "Welcome to My World." Her work then caught the attention of BET, who featured Coline on their Music Matters Tour along with J. Cole and Elle Varner.
"Acapella Now," a single released in 2011, caught the attention of executives at Sony ATV (formerly EMI). She inked a songwriting contract with Sony ATV and instantly got to work meeting with producers, learning the ins and outs of the industry, and perfecting her craft. The 2012 release of the "Acapella Now" EP was embraced with critical acclaim by Vibe Magazine, Pynk Magazine and Singersroom, to name a few.
Learn more about Coline here: www.colinecreuzot.com
Listen to Coline & Mark here: