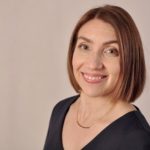 Join Stacie Waters to discuss the benefits of incorporating plant-based meals into your diet!
Stacie is the CEO and owner of Bilinski Sausage Co, a third-generation family business, headquartered in Cohoes, New York, and the Founder of High Peaks plant-based sausage. High Peaks plant-based sausage manufactures delicious sausage made from white beans, fresh vegetables, and premium seasonings. Suitable for vegetarians, vegans, carnivores and omnivores, High Peaks is always meat-free, high in protein, non-GMO and was designed to fuel active lifestyles with real, whole foods.
Stacie grew up in the meat business but began her career in the technology industry after graduating with a Bachelor of Science degree from Cornell University.  Later, she earned a Masters degree from the Fletcher School of Law and Diplomacy and served as an advisor to the US government on national security policy issues. In 2004, she returned to New York's Capital Region to reinvent and grow the family business. Stacie lives in Clifton Park, NY with her husband and two sons and enjoys hiking, training for triathlons, and inventing new flavors of sausages in her home kitchen.
Check out High Peaks here: highpeaks.life  or Bilinski Sausage here: bilinski.com
You can listen to Stacie & Mark here:
Watch Stacie & Mark here: