Joining us from England is Libert forrest. Libert chats with Mark about how the pandemeic has hit her village a few hours from London.
Liberty Forrest is an award-winning author, speaker, anda contributor on Huffington Post and Thrive Global. She has written articles for more than 50 publications around the globe and has also written several books that cover a range of personal development topics. Liberty has been a guest on approximately 100 radio shows, podcasts, and summits. She is also the creator of "Witchy," her alter-ego and cartoon character whose vision is to light up the world with hope, healing and humour.
www.thewitchyonerocks.com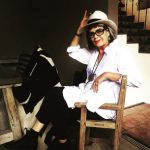 Next up is Mary van de Wiel, who checks in from Mexico. She talks about social distancing and wearing a mask. No mask can mean a fine of $300 or 36 hours in jail!A good example of multicultural fusion, Mary van de Wiel grew up in four continents, Venezuela, Canada, The Netherlands and Australia, before she turned 15. No surprise she learned 
at an early age 
how to scope out the horizon and interpret the invisible clues, no matter what the country, culture or language. It seemed 
the best way to sense her place and identity in the world, 
and give it meaning.
No wonder she's been working in the branding space for the past 30 years running an office in New York and Sydney. Her specialty? Helping people recognize who they are — so others can. Dubbed brand psychologist by Time Inc. when her agency launched People Weekly magazine in the Australian market, she's continued her consulting after selling the agency as well as speaking and running her signature NY Brand Lab workshops across the US, Latin America and Australia.  www.maryvandewiel.com
Fast forward to 2016: One day, this NY-based brand consultant landed in the middle of Mexico, picked up a brush and a can of black house and started to paint floor to ceiling for the first time in her life. It turned her world upside down. Always the incurable doodler, those damn doodles refused to be doodles anymore. Hello, Black Line Crazy. Following a successful exhibition in Australia and Mexico, her first public art installation, What Were You Thinking, was unveiled last September in the UBS corporate bank lobby at 1285 Avenue of the Americas.
Van de Wiel recently launched the first online design shop for the Black Line Crazy Limited Edition Collection. It started with messenger bags and totes, with each piece based on a signed original painting.  Now it includes the Wool Collection featuring one-of-a-kind hand woven pieces made by master craftsmen in Mexico. www.blacklinecrazy.com
Listen to Liberty, Mary and Mark here: