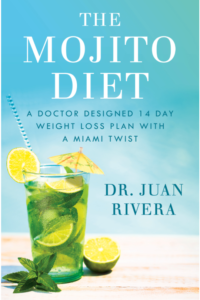 More than a weight loss plan, The Mojito Diet is a lifestyle change. One that serves the perfect balance between life's pleasures and healthy choices. "Being healthy doesn't have to mean giving up everything you enjoy, or sitting home while everyone else has fun," explains renowned internist and preventative cardiologist, Dr. Juan Rivera.  In the vein of bestselling books The South Beach Diet and The 17 Day Diet, Dr. Juan Rivera offers the perfect way to lose the weight and keep the fun in this science-based diet that promises lasting weight loss without the roadblocks that make you quit halfway.
"Sure, I'll have a mojito, please," said pretty much no one ever while dieting.  But Dr. Juan Rivera, a board-certified internist and preventative cardiologist, is about to change that. Trained at John Hopkins University Hospital, Dr. Rivera has dedicated his Miami-based cardiology practice to helping his patients lose weight and improve their heart health. But he found that his patients weren't interested in giving up their favorite indulgences like bread, rice, and tortillas—not to mention their mojitos. This was Miami, after all! So he developed a foolproof plan that has helped countless patients lose weight and keep it off, without deprivation.
And now, with THE MOJITO DIET (Atria Books; $26.00; On-sale: December 18, 2018), Dr. Rivera shares the 14-day plan that will help you shed pounds, move more freely, and toast your way to permanently improving your health.
THE MOJITO DIET embraces Dr. Rivera's philosophy of life—that celebration and joy should be a part of our lives every single day, and that making healthy choices can be a pleasure, not a punishment.  Being healthy doesn't have to mean giving up everything you enjoy, or sitting home while everyone else has fun. He says, "The best way I can think of to live your life to the fullest is by taking care of your health—and if you're overweight or obese, losing weight is the best place to start celebrating your own life."
Research has shown that higher protein, lower carbohydrate diets can lead to significant weight loss.  But many people find these diets difficult to follow for more than a few weeks, because eating so much protein gets very boring and carb cravings sabotage their motivation.  Dr. Rivera's THE MOJITO DIET succeeds because it combines a high-protein/low-carbohydrate meal plan with a carb-friendly, intermittent fasting plan. The entire program is research-based and follows the heart-protective principles of the DASH (Dietary Approaches to Stop Hypertension) Diet, the gold standard of medical diet plans. This powerful combination makes for steady, effortless weight loss.
Oh, and did we mention mojitos….?
THE MOJITO DIET eliminates another important roadblock. Too many diets ask readers to give up alcohol, especially in the beginning. That wasn't realistic for Dr. Rivera's patients in Miami, where he says people love to party, play, dance, and spend time with family and friends. Dr. Rivera doesn't believe people need to give up alcohol to lose weight—in fact, he thinks it helps them stay motivated when they think of it as a reward.
A WEIGHT LOSS PLAN WITH A MIAMI TWIST—
Dr. Rivera's 14-day weight loss plan guides you through two simple, straightforward steps, to help you lose weight and improve your heart health, while indulging in a refreshing mojito twice a week as a reward.  After reaching your goal weight, Dr. Rivera eases you into his Mojito Maintenance Plan, designed to help you easily integrate healthy eating habits into your daily routine to keep the weight off forever.
14-days to lose the weight: Readers alternate Grain Drop weeks of high-protein/low-carb eating with Clean 16 Fast weeks that welcome carbs and introduce intermittent fasting days.

Delicious Latin flavor: Features a meal plan and 75 delicious recipes, including breakfasts, salads, soups, mains—and mojitos! Dr. Juan has also included nutrition charts with recommended portion sizes and daily servings, as well as Weekly Meal Plan samples to help you customize each week to your liking.

Comprehensive and engaging: Loaded with helpful and motivating tips, including "Dr. Juan's Wisdom," quick tips, advice, and suggestions about motivation, making smart choices when eating out, dealing with setbacks, finding time to exercise, and more.

Motivating success stories: Features short personal accounts by people who have lost weight, reduced their disease risk, and improved their health following Dr. Rivera's revolutionary diet.
Juan Rivera, MD, MHS, is a board-certified internist and cardiologist who trained at Johns Hopkins University Hospital. He specializes in the prevention, early detection, and treatment of cardiovascular diseases. He is the chief medical correspondent for Univision Network and the host of the "Dr. Juan" show, a weekly one-hour health program on Univision. Through his concierge practice in Miami, he sees patients that include celebrities, business leaders, and athletes from around the world.  To learn more about Dr. Rivera and his work visit: www.drjuan.net
Listen to Dr. Juan with Mark here:
The Mojito Diet
The Mojito Diet Part 2