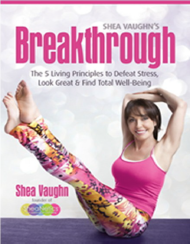 Shea Vaughn is a leading wellness and fitness expert whose work has won the endorsement of the City of Chicago and the Chicago Department of Public Health. She has trained and consulted with corporate leaders, celebrities and innovative entrepreneurs around the country, affectionately earning her the title of America's Queen of Wellness.
Ms. Vaughn is considered a pioneer in this field having created wellness & fitness principles to drive significant improvements and well-being in personal performance and transitioned this philosophy to inspire business wellness and success. Ms. Vaughn is the Co-Founder/CEO of WBTVN (the Women's Broadcast Television Network) – the first OTT digital online TV network with original content created for women and reaching a growing audience of over 30 million through Roku, AppleTV, Google Play, Amazon Fire, Chromcast and other digital media. WBTVN sees into the future and is providing a new visual meeting place today for women to Connect, Collaborate and Communicate.
Shea is the creator of SheaNetics®; the only values-based doctor-endorsed lifestyle practice that enhances the quality of one's physical, nutritional, mental and emotional intelligence through the winning power of its transformational "Shea-Fit" programs and SheaNetics grounding 5 Principles of Wellness – Commitment, Perseverance, Self-Control, Integrity and Love. She is also the Founder of the Healthy Initiative Foundation and its healthy lifestyle ambassador program, the 90-Day Makeover.
As a master trainer and presenter, Shea has also written the next chapter in fitness by creating her breakthrough multi-discipline SheaNetics workouts. They are a one-of-a kind mash-up of performance proven movements from yoga, pilates, mixed martial arts, dance, GYROKENISIS® and more, and are especially noted for their constant variety, incredible flow, effectiveness and SheaNetics Tri-Core-Power Training for a "killer core". SheaNetics workouts deliver a challenging and dynamic unparalleled innovation in body performance exercise that is multi-age-suitable and appropriate for any fitness level.
Ms. Vaughn is the author of BREAKTHROUGH – The 5 Living Principles to Defeat Stress, Look Great & Find Total Well-Being; and hosts "The Shea Vaughn Expert Spotlight Show" on WBTVN. She is a frequent keynote celebrity speaker at corporate and major conference events and a health and wellness contributor to various media and TV, including Ellen, The Social, The Marilyn Dennis Show, WBTVN, Windy City LIVE and The Best Ever You Network.
Ms. Vaughn resides with her husband in Hermosa Beach, CA.
www.wbtvn.tv / www.sheavaughn.com
Listen To Shea and Mark here:
America's Queen of Wellness Part 1
America's Queen of Wellness Part 2
America's Queen of Wellness Part 3