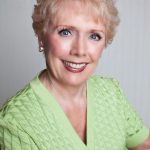 Tired of being cooped up in the same living space with your partner?  The coronavirus pandemic is taking a toll on couples of all ages and relationship stages. But there's something you and your partner can do to ease the anxiety and boredom besides bingeing on TV, video games, and snack food: Have more sex!
Dr. Diana Wiley, a Seattle-based licensed marriage & family therapist and board-certified sex therapist specializing in sexual and relationship issues, encourages couples in her new book, Love in the Time of Corona: Advice from a Sex Therapist for Couples in Quarantine, to make the most of this extended period of "forced togetherness" by rekindling the sparks of passion and learning to discover deeper levels of intimacy
She joins us for a discussion about how sexual activity between partners can have a distinct beneficial effect on the mental and physical health of a couple, how to use sex as an effective stress-relief strategy, how couples can recommit to their relationship, and how to expand a couple's sexual knowledge and spice up their lovemaking with something new.
Love in the Time of Corona will help you get to know your partner better, plan a date night at home, and maintain a healthy and passionate relationship at this critical time. Dr. Wiley talks with Mark Alyn.
Listen to Dr. Wiley and Mark here