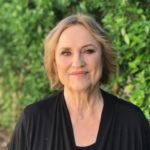 Late Night Health's Mark Alyn chats with Sharon Spencer Schlesinger, Susan G. Komen Los Angeles County Metastatic Breast Cancer Committee Founder and Chair about the 7th Annual Metastatic Breast Cancer Conference.
Sharon was diagnosed with both breast and cervical cancer over 28 years ago, in the dark ages, before the internet, social media, and the entry of Susan G. Komen on the national stage. Her cancer was caught at an early stage, and she was lucky enough not to experience a recurrence or a more advanced stage, even though the fear remained long after everyone else decided she was cancer-free. That's the funny thing about any kind of cancer, she says, you are never 'free' again.
Currently, she focuses on creating support and awareness for the issues associated with metastatic breast cancer. Her best friends are all metastatic now, her mission: to empower them with the knowledge they need to live a full, creative and rewarding life as cancer 'free' as she has gratefully lived.
Her fingerprints are evident on Susan G. Komen's Los Angeles County 7th Annual Metastatic Breast Cancer Conference, "Creating Understanding One Community After Another," For the first time ever, it will be live-streamed in six languages: English, Spanish, Chinese, Vietnamese and Korean. Mark Alyn and LNH producer  "The Insane" Darrell Wayne will co-host the event beginning at 8 am Pacific.
Special breakout sessions include:
Newly diagnosed with metastatic breast cancer: Learn what you need to know and questions you should ask your doctor.
Intermediate patients: Participate in a round table discussion with experts on legal and financial issues, palliative care benefits and coping strategies.
Patient Advocates/Mentors: Participate in a round table discussion with experienced advocates, scientists, and mentors on the benefits of advocacy.
Other conference highlights: Breaking news in research, what research needs, clinical trial stories, and benefits, overcoming cultural barriers, cannabis, Q&A and Inside the     Storm Art exhibit.
Dr. Robert Nagourney, Founder & Medical Director of the Nagourney Cancer Institute, will give the keynote address.
Admission, parking and lunch are free to metastatic patients and one guest.
It will be held on January 4, 2020 @ City of Hope Duarte from 8:30 AM to 5 PM.            Register at https://mbclacounty.eventbrite.com, or call (805) 908-2054or email           mbc@komenlacounty.org.
Sponsors include City of Hope, Pfizer, California Breast Cancer Research Program, Amgen,  Eisai and Lilly Oncology.
You can listen to Sharon and Mark here: