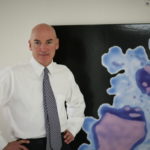 "Creating Understanding, One Community After Another" is the theme for Susan G. Komen's Los Angeles County 7th Annual Metastatic Breast Cancer Conference.
Late Night Health's Mark Alyn discussed the January 4 event with the keynote speaker, Dr. Robert Nagourney, Founder and Medical Director of the Nagourney Cancer Institute and Clinical Associate Professor at the University of California, Irvine.
Dr. Nagourney has been internationally recognized as a pioneer in cancer research and personalized cancer treatment for over 20 years and states that, "The physician's role is to discern what makes each patient unique, but few take the time to find out." He believes that every cancer patient is one in a billion.
For the first time ever, the conference will be live streamed in six languages: English, Spanish, Chinese, Vietnamese, Korean and Cambodian. Why? Because it is time to talk about breast cancer and, in too many of these communities, that does not occur. Patients from other cultures face these additional barriers.
Other topics of discussion will include:
Control the fear you feel so fear does not control you.
What a metastatic patient needs to know and do as early as possible.
What I wish I knew at the beginning.
Special breakout sessions include:
Newly diagnosed with metastatic breast cancer: Learn what you need to know and questions you should ask your doctor.
Intermediate patients: Participate in a round table discussion with experts on legal and financial issues, palliative care benefits and coping strategies.
Patient Advocates/Mentors: Participate in a round table discussion with experienced advocates, scientists and mentors on the benefits of advocacy.
Event will be held at City of Hope Duarte.
Admission, parking and lunch are free to metastatic patients and one guest.
Register now at https://mbclacounty.eventbrite.com, or call 805.908.2054 or email mbc@komenlacounty.org.
Sponsors include City of Hope, California Breast Cancer Research Program, Amgen, Eisai and Lilly Oncology.
About Susan G. Komen® and Komen Los Angeles County
Susan G. Komen is the world's largest breast cancer organization, funding more breast cancer research than any other nonprofit while providing real-time help to those facing the disease. Komen has set a Bold Goal to reduce the current number of breast cancer deaths by 50 percent in the U.S. by 2026. Komen was founded in 1982 by Nancy G. Brinker, who promised her sister, Susan G. Komen, that she would end the disease that claimed Suzy's life. Komen Los Angeles County is working to better the lives of those facing breast cancer in the local community. Through events like the MORE THAN PINK Walk™Komen Los Angeles County has invested $10,535,590 in community breast health programs in Los Angeles County and has helped contribute to the more than $920 million invested globally in research. For more information, call 310-575-3011or visit http://komenlacounty.org.
Listen to Dr. Nagourney and Mark Alyn here: