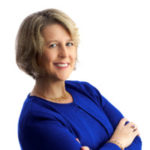 GivingTuesday (December 3) is an international day of giving recognized on the Tuesday after Thanksgiving. Now in its eighth year, GivingTuesday has changed a bit over time, but one thing remains the same – the impact of giving during one-day celebrations, like GivingTuesday and year-round.
On December 2nd, we have a special interview to preview and discuss the importance of GivingTuesday with two top experts on social good from Blackbaud, the world's leading cloud software company powering social good. Blackbaud serves the entire social good community, which includes nonprofits, foundations, corporations, education institutions, healthcare institutions, and the individual change agents who support them. You'll be speaking with either Blackbaud's Rachel Hutchisson who will split the interviews and explain why GivingTuesday is so important and how giving during one-day campaigns like GivingTuesday and year-round truly changes lives.
Rachel Hutchisson, VP, Corporate Citizenship & Philanthropy, Blackbaud, is responsible for global corporate social responsibility (CSR), leading the company's 3,400 employees in efforts to serve and give both through professional and personal avenues.