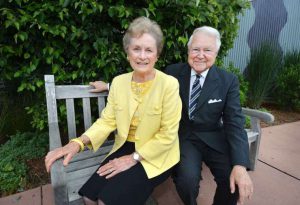 In today's uncertain economic times, it's difficult to find a one-hundred-dollar donor, much less a $20 million dollar one!  But Nuvance Health, a system of world-class hospitals in Connecticut and New York, located a generous couple that is helping to fund a new patient pavilion at Norwalk Hospital with their $20 million legacy gift.  
Tune in today to hear my compelling interview with super philanthropists Carol and George Bauer, pillars of the southern Connecticut community for decades, who have ensured the best possible health and wellness services for the entire region.
Their latest donation will allow Norwalk Hospital to construct and renovate a new 188,000-square-foot Patient Pavilion that will feature:
Sixty single-bed private rooms
A new labor and delivery unit
A 17-bed postpartum unit and new newborn intensive care unit (NICU)
A state-of-the-art intensive care unit (ICU) and step-down unit
The latest medical equipment and technology
The Bauers will also share their other civic commitments and how they live to give back – lessons for us all!
About Nuvance Health
Nuvance Health is a family of award-winning nonprofit hospitals and healthcare professionals in the Hudson Valley and western Connecticut. Nuvance Health combines highly skilled physicians, state-of-the-art facilities and technology, and compassionate caregivers dedicated to providing quality care across a variety of clinical areas, including Cardiovascular, Neurosciences, Oncology, Orthopedics, and Primary Care. Nuvance Health has a network of convenient hospital and outpatient locations — Danbury Hospital, New Milford Hospital, Norwalk Hospital and Sharon Hospital in Connecticut, and Northern Dutchess Hospital, Putnam Hospital and Vassar Brothers Medical Center in New York — plus multiple primary and specialty care physician practice locations, including The Heart Center, a leading provider of cardiology care, and two urgent care offices. Non-acute care is offered through various affiliates, including the Thompson House for rehabilitation and skilled nursing services, and the Home Care organizations. For more information about Nuvance Health, visit nuvancehealth.org
Listen to The Bauers And Mark here: