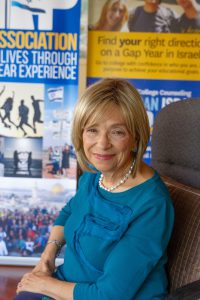 Taking a college gap year is a practice that may be more fully realized in 2020 than ever before, due to the global pandemic.
After high school, many students take a "gap year" before heading to college.
As colleges have been struggling to open their doors, during the global pandemic, now more than ever, students are asking:
Is a Gap Year right for me?
How can I make this coming year one of meaning and purpose?
Is there still a place to do hands-on learning?
Author of Find Your Right Direction: The Israel Gap Year Guide, Redwood Publishing, eBook and softcover, Phyllis Folb is well versed in all things gap with a specialty in Israel programs.
She also runs the American Israel Gap Year Association, a 501(c)3, and works with students, parents and educators alike, https://www.americanisraelgapyearassociation.org/.
Israel's start "up nation" reputation in many industries, especially technology, and its ingenuity, make it a destination for all those with inquisitive minds and entrepreneurial spirit. Additionally, Israel's rich history speaks to all faiths looking to connect spiritually, but is particularly meaningful to Jewish students who want to strengthen their connection to their heritage.
How will a gap or bridge year be different during COVID? Phyllis addressed this and other questions as she chats with Late Night Health's Mark Alyn.
Listen to Phyllis and Mark here: