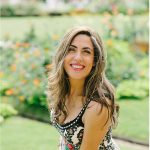 Daniella Bloom LMFT is all about authentic honest human connection and finding the FUN in Dysfunction! She understands first-hand, that wherever find yourself, its never too late to BLOOM where you are planted in Love and Life!
Recognized as "LA's premiere Divorcée success coach and dating expert" by Southern California Magazine, licensed psychotherapist and celebrity transformational relationship success coach, Daniella Bloom, has seen it all and been through it herself!
After ending her own 16-year marriage, a whole new purpose and career has exploded!  This Good Wife Gone WILD has her pulse on what makes and breaks a relationship today. A comedic and engaging speaker, Daniella's passion is helping her clients and audiences put their best foot forward and get out of their own way for ONLINE to OFFLINE dating and relationship success!
Daniella Bloom, is now "living her twenties in her forties" with some very delicious healing high-quality dating experiences of her own!
She has become an open book with her personal divorce transitioning experiences, codependency recovery, navigating the dissolution, the reality of the disconnected legal system, co-parenting with a difficult ex, dating again- successfully, and birthing a brand new purposeful career as a first-time entrepreneur.  Divorce SUCKS, but life doesn't have to!
With over 70% of divorces filed by women today, in which 90%v of these ladies hold 4 year college degrees, there is a major disconnection going on in current long-term relationships. Daniella׳s passion is to bridge this gap and help men and women get back to their full potential in love and life.
For community, honesty, insight, and LAUGHTER guaranteed, Daniella regularly leads her popular in-person (and now on ZOOM) Divorce Diaries empowerment groups for women-only and men-only with monthly Co-Ed sessions in the San Fernando Valley.
She is also the #1 Best Selling Author of the multi-award-winning Under The Tree children's series that reminds readers of all ages, universal life lessons on love and relationships.

Daniella Bloom is an advocate for Israel, coexistence, and peace in the middle east, women's rights, and beyond. 
A big fan of improv comedy and the concept of "Yes…and__", Daniella currently lives in Los Angeles with her 3 beautiful children and dog Pugsy.
Listen to Daniella and Mark here:
You can watch them here: