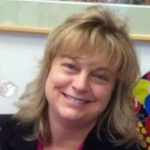 Lori Maney Lentini, M.S. is a respected mental health advocate with a social media presence who lives with an anxiety disorder (a peer) and works as a Senior Vice President of a large not-for-profit agency in New York serving over 14,000 people a year with mental illness, developmental disabilities, and substance abuse disorders. Her experience in the mental health field as an executive, patient, and parent of grown children with mental health issues culminate together into a richly honest and authentic voice with universal appeal.  These experiences are the foundation on which she delivers a message of hope, understanding, and real-life strategies for coping with stress and anxiety. Her end game is to help eliminate the stigma associated with mental illness in her lifetime.
In her professional role as a member of the leadership council for the last 26 years, she has collaborated and led the agency's growth from a small local community agency to one that provides services to over 14,000 people in 12 counties. In 2019 she was appointed to serve as the Peer Advocate on the Agency's Incident Review Committee which oversees the quality of care of patients to ensure the voice and perspective of someone living with a mental illness is present to advocate for service improvements and fair treatment. She is also a member of the Orange County Chamber of Commerce Health & Wellness Committee which is a collaborative of employers working together with the county to improve the mental and physical wellness of employees through implementing innovative employer practices, policies, and public education.
Lori is a sought-after corporate leadership trainer specializing in professional development, coaching, and culture transformation. She has taught seminars at corporate events and conferences on staff emotional wellbeing, cultural diversity, joy at work, team building, managing multi-generational teams, leave policies, supporting people with illness and disabilities at work, positive culture design, and staff retention. She has a master's degree in Human Resource Management and Counseling and is trained in Mental Health First Aid and Suicide Prevention: Question Persuade Refer (QPR). She is a trainer for A Hero's Journey workshop and is seeking certification as a Mental Health First Aid trainer. Lori visits with Mark Alyn to discuss how the world feels about those with mental disorders.
Listen to Lori and Mark here
You can watch Lori and Mark here