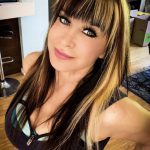 Cynthia Rothrock is a martial arts expert and athlete, who went on to become a film actress, starring in a number of highly successful action movies. She first made a name as an action actress in Hong Kong before going on to wow audiences in her home turf. Cynthia is well-known as the "Queen of Martial Arts films".
She is the World Champion in martial arts Forms and Weapons (1981-1985). Her goal was to be undefeated and retire after five years. With over 100 competitions, she holds the undefeated worldwide record in martial arts Forms competition. In weapons competition, Cynthia is the first and only woman to win number one in North America against the men—at that time, women had to compete with the men. She holds five Black Belts with a rank of 8th dan Grandmaster.
Upon completing her goal of being undefeated in competition, she began her martial arts acting career starring in movies produced and filmed in Hong Kong. Her first movie, Yes, Madam alongside Michelle Yeoh, broke box office records making her a massive star in Hong Kong. After three years of living in Hong Kong, finishing seven films, she returned to the United States to continue her acting career. Today she has starred in over 60 movies and is currently working on upcoming projects.
Cynthia has been a role model for women in martial arts and film. In 1983, she became the first woman to grace the cover of Karate Illustrated. Cynthia is a proud inductee into the prestigious Black Belt Hall of Fame, along with Bruce Lee and Chuck Norris. In 2016 she was the first martial artist (male or female) to be inducted into the prestigious International Sports Hall of Fame by Arnold Schwarzenegger and Dr. Robert Goldman.
You can watch them here