Can You Say That Again? Mark Alyn Talks About Hearing Aids
Unstoppable Me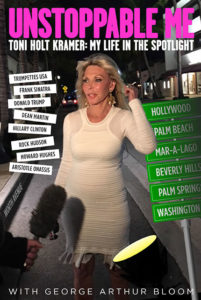 If you are intrigued by learning the inside stories of both Hollywood and Washington DC, you'll want to listen to Mark Alyn's interview with Toni Holt Kramer who just published her memoir UNSTOPPABLE ME: Toni Holt Kramer, My Life in the Spotlight, Dog Ear Publishing, $29.95 hardcover, $17.95 paperback. 
For those who are intrigued with real life glimpses into the entertainment and political capitals of our country, this fast-paced literary work, written by a former Hollywood news reporter and television personality who recants decades of experience from an impeccable memory, is a must read. It is full of never-before-told stories and never-before-shared photos. 
Toni began her journey in Brooklyn, born to a mother who cherished her and a father who deserted her. 
Two philosophies instilled by her mother, Helen, have served Toni well on her remarkable path. "If you think it, you can do it" and "Do the right thing." 
These guiding principles are likely why she's had the most remarkable guardian angels by her side, Rock Hudson and Frank Sinatra were two of them, and she made and kept friends throughout her life. It explains why she's been entrusted with the most sensitive secrets of the famous and been offered first priority on major news stories. 
It also explains her friendship with Hillary Clinton… "I was crushed in 2007 when she was not nominated." And her decade-long close friendship with Donald Trump and founding of the Trumpettes USA in 2015, an organization with tens of thousands of members today, formed to ensure that Trump would be elected president. He calls her "his messenger." 
An amazing storyteller, Toni is both dynamic and outspoken. It has been said that Toni Holt Kramer truly defines the word "UNSTOPPABLE." We believe you'll concur after listening to Late Night Health's segment of Mark Alyn's conversation with her. 
Unstoppable Me
Unstoppable Me Part 2