What Did You Say? Mark Alyn Talks About Hearing Aids From Signia
Panic Free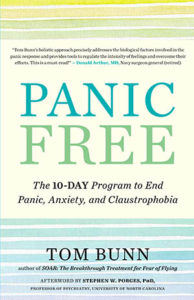 Until now, panic attacks have been a problem without a consistently viable solution. The Anxiety and Depression Association of America reports that six million Americans have a panic disorder, but the most commonly used therapy, Cognitive Behavioral Therapy, only stops panic in one out of seven people, and the drugs that are often prescribed to treat panic are highly addictive.
A new book, Panic Freeoffers readers a step-by-step solution for training the brain to stop panic before it starts. As an airline pilot, the author, Tom Bunn, offered a course on fear of flying. In addition to worry that their plane might crash, many of his clients fear they might have a panic attack on their flight.
To help them control their panic, Bunn tried every existing therapy. None reliably stopped the in-flight panic. This set him on a quest to find a solution. He went to graduate school, became a licensed therapist, and attended one postgraduate training institute after another. By experimenting with new methods based on neuroscience, he discovered a solution that works, not only in flight but is more effective than other therapies for ending panic on the ground. This method is taught in Panic Free: The Ten-Day Program to End Panic, Anxiety, and Claustrophobia (New World Library, May 1, 2019).
In humans, the autonomic nervous system is supposed to regulate arousal automatically. One part of this system up-regulatesus. A second part down-regulatesus.
The part that up-regulates is mature at birth and operates automatically. But the part that down-regulates is immature and does not operate automatically. Thus, when a young child needs to be calmed, its down-regulation system is activated by a caregiver, via signals transmitted by the caregiver's face, voice, and touch.
Over time, if things go well, the child becomes able to down-regulate automatically. But things don't always go well, and if automatic down-regulation is not developed, the child grows up to be a person who is subject to panic attacks.
Since panic happens only when automatic regulation fails, Bunn teaches readers how to keep up-regulation in check, and how to complete the development of automatic down-regulation. For more information visit  www.amazon.com 
Panic Free
Panic Free Part 2