A Listen To Hearing Aids With Mark Alyn
Top Dog – A Robot For Seniors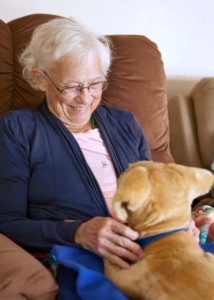 Scientists estimate as many as 97 percent of seniors with dementia suffer from behavioral and psychological symptoms of the disease (BPSD), and studies have shown that such symptoms can be reduced if they can form an emotional attachment, particularly to an object or animal. Looking to make a significant difference in helping seniors struggling with dementia, Tombot, Inc., (https://www.tombot.com), has created a realistic robotic animal companion that provides seniors with a stronger sense of control, connectedness, and purpose, ultimately reducing their symptoms, the need for psychotropic medications, and improving their overall quality of life.
Following multiple rounds of consumer testing with groups of up to 700 seniors with Alzheimer's and other forms of dementia, the team at Tombot concluded that a robotic animal with a hyper-realistic appearance, feel and behaviors had the highest capacity to elicit an emotional attachment with seniors suffering from these debilitating diseases. To achieve that level of realism, Tombot realized a whole new type of robot would need to be invented. Tombot selected Jim Henson's world-renowned Creature Shop to provide the artistic design services for their robots. You can check out a full interview about Tombot with CEO and Founder Tom Stevens and the Jim Henson Creature Shop team at the following link:https://www.tombot.com/puppies.
Innovation has been a hallmark of the Jim Henson brand. Drawing upon their Academy Award-winning animatronics skills, Jim Henson's Creature Shop wonderfully captured Tombot's vision, creating a Labrador puppy fit for the big screen. The Tombot robotics team then brought the puppy to life, with a full suite of sensors and inventing software control systems to make the puppy both autonomous and fully interactive. The result is a beautiful, lovable puppy with patent-pending design and architecture.
Tombot Puppies are designed to be effective substitutes for live animal companions, and as such, provide all the benefits of a live animal without the burden of care, the risk of bites, allergic reactions, or infections. Stevens understands the importance of improving behavior, mood, and overall well-being for those with BPSD and hopes that Tombot can benefit the lives of those with dementia, as well as that of their caregivers and loved ones.
"Virtually all of Tombot's investors have (or had) loved ones with dementia. Through these interactions, we have come to appreciate that the benefits we are delivering aren't just for seniors with dementia, but also for those most responsible for their ongoing care and well-being," said Stevens.
Stevens also stressed that the development of Tombot began as a call to action to provide the most realistic robot possible that was also accessible to everyone who could benefit from its use. He added, "we needed to invent a far more realistic robotic animal than has previously existed, while still being affordable to reach as many people as possible."
Distinguishing features of a Tombot Puppy include:
Realistic Appearance: A user-friendly design that is authentic to a real dog's anatomy. Tombot Puppies look, feel and move in a hyper-realistic way, far exceeding anything currently available in the animal robotics space.
Lifelike Expressions & Behavior: A software control system that allows the robot to respond to users in a manner consistent with how a real dog would respond.
Response to Voice Commands: Voice recognition system that listens to commands and responds accordingly.
Affordability: Roughly one-fifteenth the price of the Paro robot, the next best robot in the dementia space.
Easy Charging: Provides all-day battery life with a cord that plugs in for overnight charging.
Stevens' mission to create a life-like robotic dog began after his mother, Nancy, was diagnosed with Alzheimer's in 2011. She soon became unable to care for her beloved dog, Golden Bear, but she still craved that emotional connection and companionship. Stevens talks with Mark Alyn about how the Tombot helps seniors.
Top Dog -A Robot Dog For Seniors
Top Dog -A Robot Dog For Seniors – Part 2