Learn How Mark Got His Hearing Back With Signia & Brighthear!
Mother Of Almost 10 – Writes LOKI OF MIDGARD: THE MAKING OF A MAGICIAN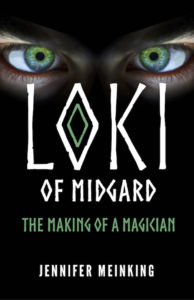 What better time for Loki, the god of mischief, to debut in a new book than on April Fool's Day? That's when first-time author Jennifer Meinking published Loki of Midgard: The Making of a Magician was published by Soul Splash Press, $14.99, paperback and $4.99, and e-book. 
Late Night Health's Mark Alyn recently discussed Jennifer's first book in an historical fantasy series about Loki on Earth, set in the colorful Roaring Twenties. This Loki, a Norse mythology trickster god, was inspired by Tom Hiddleston's brilliant and sensitive portrayal of him in Marvel's films. 
Having wanted to be an author since she was a child, Jennifer wrote more than 800 pages in less than three months. And while birthing her first book, Jennifer was also pregnant with her tenth child. 
Ambitious, yes. Jennifer Meinking is a small business owner that wears many hats. When her oldest children were small, she transitioned from running an online boutique to a website optimization business, which she owned and operated until the demand became too great for her growing family. It was not long before she found her entrepreneurial spirit still needed an outlet, leading her to start a direct selling business as a Mary Kay professional. She maintains it today. 
When her dormant inner author demanded a "seat at the table," she simply scooched over and made a little more room. Often mislabeled a "supermom," Jennifer is a doggedly determined woman with an overactive imagination, a thirst for adventure, and a life that is rarely boring.  We suspect this talented (and busy) woman is the next J.K. Rowling. Jennifer talks about motherhood, kids and writing on this edition of Late Night Health. 
Mother Of Almost 10 – Writes LOKI OF MIDGARD: THE MAKING OF A MAGICIAN
Mother Of Almost 10 – Writes LOKI OF MIDGARD: THE MAKING OF A MAGICIAN Part 2