Mark Alyn Talks About Brighthear.com & Signia Hearing 
Alzheimer's & The Law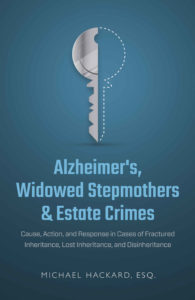 Half a million new cases of Alzheimer's are diagnosed each year in the US and nearly 6 million Americans currently live with the disease. Compounding this tragedy is the fact that every person with Alzheimer's or dementia is a potential victim of inheritance-related exploitation.
The two scourges go hand in hand, each year leading to tens of thousands of lawsuits and billions of dollars in fraud, lost inheritance and disinheritance.
Alzheimer's, Widowed Stepmothers and Estate Crimes: Cause, Action, and Response in Cases of Fractured Inheritance, Lost Inheritance, and Disinheritance (Hackard Global Media, LLC; March 1, 2019) is an invaluable guide for the millions of Americans struggling with cognitively impaired family members and inheritance-related conflicts.
SuperLawyer® Michael Hackard, Esquire, has over 40 years' experience practicing this type of law and has been featured by The Wall Street Journal, MarketWatch, MSN Money, C-SPAN and more, and has testified before the House of Representatives.
In addition to practical advice and illuminating case studies, this book includes answers to uncomfortable but often unavoidable real-world questions such as:
How do I remove my drug-addicted stepbrother as trustee of my mom's estate?
What can I do to protect my grandfather with Alzheimer's from a stepdaughter who got power of attorney and is now draining his bank accounts?
How do I find the best attorney to represent me in a case of unequal inheritance?
For those unsure where to turn, Alzheimer's, Widowed Stepmothers & Estate Crimes provides a clear path forward.
Michael A. Hackard has been practicing law for over forty years. His practice includes trust litigation, personal injury and wrongful death claims, estate planning, and business and commercial matters. Michael regularly represents clients in California state court and federal court, and he has also represented clients before federal, state, and local legislative and administrative bodies.
Michael's main focus is estate, trust, and elder financial abuse litigation. He is especially attentive to the challenges his generation, the baby boomers, and their children face, from caregiving to wealth management. Aging parents, some of whom may suffer from Alzheimer's disease or dementia, can be vulnerable to elder abuse and undue influence when estate and trust assets are transferred. Dysfunctional relationships, particularly between stepmothers and stepchildren, can lead to conflicts over who has lawful beneficiary rights over an inheritance.
Michael is a native of Sacramento, California, where his firm is based, and he regularly represents out-of-state clients in California legal matters. Michael is committed to lifelong learning, he has completed executive-level courses at Dartmouth University's Tuck School of Business, the University of Pennsylvania's Wharton School, Columbia Business School, and Northwestern University's Kellogg School of Management.
Michael's experience has taught him that litigation clients first and foremost want counsel who will listen to and be committed to them. This commitment includes understanding that the client's personal and/or financial safety is often paramount, and that efforts to prevent disputed matters from getting worse must often be tackled immediately.
His philosophy is embodied by his dedication to clients, legal excellence, commitment to professional ethics, and the finest ongoing professional training. He is proud to lead legal teams that reflect these values.
Michael has an "AV Rating" from Martindale–Hubbell® Peer Review, signifying the highest level of professional excellence, and he has been designated a "SuperLawyer"—an honor reserved for no more than five percent of attorneys in each state. He has been interviewed regularly by local and national media, including the Wall Street Journal, MarketWatch, MSN Money, C-SPAN, and Fox News, and has testified before the House of Representatives. Michael visits with Mark Alyn to talk about this growing problem.
Alzheimer's & The Law
Alzheimer's & The Law Part 2