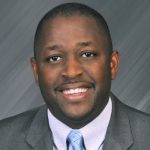 Dr. Garth Graham, M.D., MPH, FACP, FACC, is a leading authority on social determinants of health and health equity. As the Vice President of Community Health for CVS Health, Dr. Graham leads the enterprise-wide social determinants of health (SDoH) strategy, working closely with CVS Health's many businesses, to ensure differentiated, measurable and scalable approaches to addressing SDoH in communities across the country. Additionally, he leads public health partnerships and cardiovascular initiatives for CVS Health. Dr. Graham joined CVS Health through the Aetna acquisition, where he was President of the Aetna Foundation since 2014.
A cardiologist and professor of medicine, Dr. Graham is passionate about the opportunity to improve local health through cross-sector collaboration. Dr. Graham previously served as Deputy Assistant Secretary at the U.S. Department of Health and Human Services under both the Obama and Bush Administrations, where he also ran the Office of Minority Health. He directed the development of the federal government's first National Health Disparities Plan released under the Obama administration. Dr. Graham was also the assistant dean for health policy at the University of Florida School of Medicine, where he led several research initiatives looking at how to improve outcomes and readmission rates in cardiac patients in underserved populations.
He contributes to several boards including the National Heart, Lung, and Blood Institute Advisory Council, the Institute of Medicine Board on Population Health, the American Heart Association/American Stroke Associational National Quality Oversight Committee, the American College of Cardiology/American Heart Association Task Force on Clinical Data Standards, the Harvard Medical School Diversity Fund (chair) and was named by the President to the U.S. Federal Coordinating Council on Comparative Effectiveness Research many others.
Dr. Graham has been featured in media outlets including Fortune, USA Today, The Hill, The Chicago Tribune, Essence, U.S. News & World Report, Quartz and Ebony. Dr. Graham holds a medical degree from Yale School of Medicine, an MPH from Yale School of Public Health and a bachelor of science in biology from Florida International University. He completed clinical training at Massachusetts General Hospital and Johns Hopkins where he trained in cardiology and interventional cardiology. He holds three board certifications including internal medicine, cardiology and interventional cardiology.
Listen to Dr. Graham and Mark here