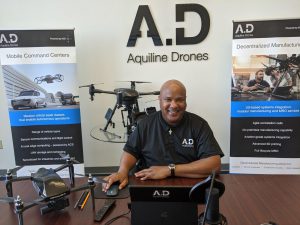 Although awareness of and appreciation for commercial drone systems are growing, many medical businesses are unaware of the opportunities drones offer to achieve better business practices, streamline solutions, elevate profitability and save human lives!
Barry Alexander, founder and CEO of Aquiline Drones (AD), a CT-based drone manufacturer and cloud solutions company, joins Mark to learn that there's a new healthcare revolution happening in America and it's being led by drone technology.
Most recently, authorities around the world have turned to drones in the battle against the coronavirus pandemic, using them to remove humans from the risk of infection.  Other applications have involved delivery of medical supplies to front-line healthcare workers, delivery of medicine and urgent supplies to individuals quarantined at home, disinfectant spraying in public pandemic areas, serving as mobile public speakers to inform people of important health and safety measures and monitoring the health of employees with heat signature, infrared cameras.
Barry also describes another powerful use of drone technology that his company is presenting producing – quick and efficient transportation and delivery of human organs, tissue and blood to save more patients on the transplant list.
According to the American Transplant Foundation, 14 people die each day waiting for an organ transplant because they cannot get from one body to the other in time, resulting in a discard rate of 25%.  Typically, transporting human organs or blood samples between hospitals involves vehicles on the ground that are prone to accidents and delays. Drones can help decrease those incidents. When every second counts, drones are an ideal solution to move an organ quickly, to where it needs to be safely, securely, and medically-sound.
Additionally, Barry gives us his vision of what we can all expect from the use of drones in healthcare, including delivery of medications, antibiotics and supplies ordered by a provider to the home of a patient, as well as being equipped to draw blood and immediately and transport the sample to a testing lab in either a hospital, nursing home or home health care setting.
Clearly, drones are intelligent robots capable of performing humanlike functions to save lives and provide essential business services that better society in a safe and responsible way.  Listen here!