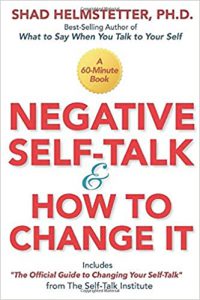 Shad Helmstetter, Ph.D., is the best-selling author of more than twenty-five books in the field of mental health and personal growth, including the classic What to Say When You Talk to Your Self, Negative Self Talk and How to Change It, and the 365 Days of Positive Self-Talk series.  His books are published in over seventy countries.
He is the pioneering dean in the field of self-talk. He is the first behavioral researcher to focus on the role of self-talk as a primary programming source that directs our life path and personal effectiveness, and he identified the actual self-talk words and phrases which most impact our individual programming. Based on his research, he produced the first professional self-talk audio programs in 1981. Today, his recorded self-talk programs are listened to daily by thousands of individuals worldwide.                                                                        
Dr. Helmstetter is the founder of The Self-Talk Institute, which teaches individuals to present self-talk training to groups and organizations, and The Life Coach Institute, which trains and certifies life and business coaches in the U.S. and internationally.
His new SelfTalkPlus.com app helps people learn positive self-talk via self-talk sessions covering all key areas of life including stress & anxiety, weight loss, self-esteem, organization, relationships, finances, career goals, focus, dealing with negatives and staying focused, and much more. SelfTalkPlus is for all age groups – from younger children and teens to adults and seniors.
Listen to Dr. Helmstetter and Mark here: