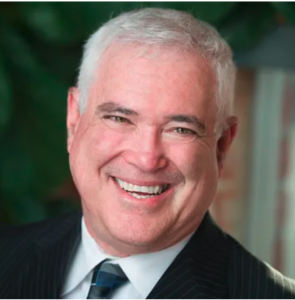 Medical malpractice lawsuits are a relatively common occurrence in the United States. But the outcome is not usually in favor of the patient. Why? The legal system is designed to encourage extensive discovery and negotiations between adversarial parties with the goal of resolving the dispute without going to jury trial. Gary Stern, a medical malpractice attorney joins Mark Alyn for a lively look at the archaic laws governing medical malpractice.
Since 1980, Gary N. Stern has been known as a lawyer's lawyer, passionate about his clients and equally passionate about bringing honor, dignity and respect to the legal profession.  For 39 years, he represented people from all walks of life. Those who know Gary know that as steadfast as he has been in the pursuit of justice, he has been equally committed to professionalism at every stage of a proceeding, earning the respect and admiration of opposing counsel, judges, mediators, arbitrators and his fellow trial lawyers.
Mr. Stern's practice as a consumer attorney emphasized medical malpractice cases, product and premises liability cases, elder abuse cases involving nursing homes and other long-term care facilities, automobile and truck accident cases as well as wrongs committed in the workplace, including sexual harassment and disability discrimination. He resolved hundreds of cases resulting in six and seven figure recoveries, through mediation, arbitration and trial.
On January 1, 2019, Mr. Stern opened SternLaw: Law Office of Gary N. Stern.  His emphasis is now conflict and dispute resolution.  He is available to serve as a mediator and arbitrator in all areas of personal injury law, with a special emphasis on the mediation of health care negligence and nursing home neglect/abuse cases as well as employment torts. Mr. Stern will continue to provide personal legal advocacy in select cases as well as litigation support to his colleagues, whether by means of court and deposition appearances, preparation of legal documents or case strategy and planning.
Mr. Stern prepared for his career as a lawyer and problem solver by earning a bachelor's degree in political science from UCLA and his law degree from Southwestern University. He served as a Field Representative and Legislative Aide for Congressman Henry A. Waxman and  the late Assemblyman Herschel Rosenthal, where his work was instrumental in passing legislation that protects renters from security deposit abuses and legislation that provides senior citizens with preference in civil trial date calendaring.
Mr. Stern is widely published in the areas of elder abuse and nursing home reform, disability discrimination, medical malpractice and arbitration.  In addition, he is a well-respected speaker for both legal and lay audiences.
Learn more bout Gary at www.sternlaw.org
Listen to Gary and Mark here: