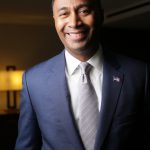 The Art of Human Care, a new book by Dr. Hassan A. Tetteh, is the focus of this episode. Dr. Hassan A. Tetteh is a Command Surgeon Emeritus for the National Defense University in Washington D.C., an Associate Professor of Surgery at the Uniformed Services University of the Health Sciences, and an adjunct faculty member at Howard University College of Medicine. He is a staff Thoracic Surgeon for Walter Reed National Military Medical Center and for the MedStar Health System.
Dr. Tetteh leads the only regionalized STAR team for heart and lung transplants in the D.C. area. He has published numerous articles on such things as surgical innovation, health information technology, ethics, wounded warriors, and process improvement.
His current research focuses on transplant teams and the expansion of organ recovery.
Dr. Tetteh serves on the Board of Directors for the Arthur Ashe Institute for Urban Health, as well as for the non-profit organization Champions for Kids. Dr. Tetteh's near-death experience in college continues to drive him to great accomplishments, including the publication of his inspirational novel, Gifts of the Heart.
Dr. Tetteh is a Thoracic Surgeon and dedicated Physician Executive. Tetteh serves as the Mission Chief of Warfighter Health for the United States Department of Defense and leads a Specialized Thoracic Adapted Recovery (STAR) Team to expand heart and lung transplantation and save lives. A servant leader and humanitarian, Dr. Tetteh solves problems creatively with a global perspective in administration, public policy, and entrepreneurship.
Dr. Tetteh joins Mark for a conversation about life and passion.
Listen to Dr. Tetteh and Mark here