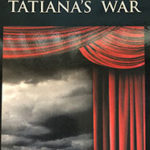 Perry Cockerell is a retired Navy Commander from Fort Worth, TX who has just published his third book in a triology. "As a retired navy and intelligence officer, the military interests me and that's where the inspiration for the books came from," Cockerell said.    His newest book, Tatiana's War sheds light on post-traumatic stress (PTSD) occurring in journalists covering war-time events.
What makes it unique is that it is presented as a science fiction parody.  Synopsis: When one journalist discovers that her focus on "fake news" begins to manifest in the real world, chaos ensues as she is faced with an internal conflict between the law of attraction and religion.    Tatiana's War is the third book in a series written by Perry.  The other titles are Private War and Private War 2.    "A Private War", was his first novel released in 2016. The sequel, "A Private War II" was released in 2017. The final installment of the Private War trilogy, "Tatiana's War", was released in 2019.
The first book is about a trial of two young black soldiers, one of whom accidentally shoots the other.  Two African-American journalists grapple over whether he is guilty or not and how to cover the trial.   The second story A Private War II covers one of the young soldier's experience with post-traumatic stress syndrome. It involves the two African-American journalists inviting this young soldier to become a journalist on the newspaper.    The third book [Tatiana's War] is a comedy, parody, and satire of what's going on today with "the deep state."  Tatiana reads a lot of books in order to give reviews on these books.
Tatiana begins to dream and visualize what she reads.  The visualization becomes reality.  It has a lot of moving parts in the books, but the focus is that these journalists are putting on a play.  The underlying meaning of Tatiana's War is that the journalists suffer from post-traumatic stress syndrome from war time coverage.   "All 3 novels are pulled together.  The story continues from the first novel to the last.  It's also a musical.  All 3 books have music in them.  Every song in the book is by Todd Rundgren. "I picked those songs and weaved them in because they're relevant to the book.  The songs have significance.  They all have moving parts, and all these back stories that are pieced together in the end.  It has characters that are the same within all 3 books," Cockerrel explained. Please contact me for a copy of the trilogy.
The books are available on Amazon. For more information visit  www.alliancepublishingllc.wordpress.com
Tatiana's War – PTSD In Journalists
Tatiana's War – PTSD In Journalists -Part 2