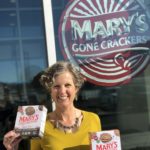 Healthy snacks should never lack flavor! Carla King joins Mark Alyn to discuss Mary's Gone Crackers, the gluten-free, non-GMO, organic and vegan snack brand.
Mary's Gone Crackers is the largest organic and gluten-free cracker company in the United States and bakes their products in their own dedicated organic and gluten-free bakery in Reno, Nevada. Since its inception, the company has grown at a rapid pace, expanding its offerings while staying true to its promise to use only whole, plant-based ingredients free from wheat, nuts, eggs, and dairy.
Mary's Original crackers are crafted with four key, whole ingredients – brown rice, quinoa, flax and sesame seeds – the perfect pairing of toasty flavor and crunchy goodness. The Super Seed variety is seed-crafted with a hearty combination of pumpkin seeds, sunflower seeds, poppy seeds and more – each serving of the Super Seed crackers offers 5 grams of plant-based protein. The REAL Thin style offers a more traditional toasty and crunchy cracker, available in four flavors.
Learn more about Mary's here: marysgonecrackers.com 
Listen to Carla and Mark here:
Watch Carla & Mark here: