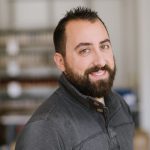 Bushwick Kitchen's Trees Knees maple syrup hits Walmart shelves nationwide. The Brooklyn-born, all-natural sauce brand featuring Trees Knees Spicy and Trees Knees Butter organic maple syrup varieties can also be found at Walmart.com for in-store pick-up.
"We are thrilled to team up with Walmart to help bring our one-of-a-kind maple syrup to consumers all over the country," said Daniel Doll, CEO of Bushwick Kitchen. "We hope to reach more customers looking to spice up their cooking with natural ingredients and unique flavors."
Sourced from the best sugar makers in the U.S., Bushwick Kitchen's Trees Knees maple syrup is 100% organic and Grade A for rich amber color and flavor. Trees Knees maple syrup is made with all-natural, minimal ingredients to ensure the highest quality and taste in every bottle. All of Bushwick Kitchen's Trees Knees organic maple syrup flavors are gluten-free, paleo-friendly and vegan.
Bushwick Kitchen's line of honeys, maple syrups and sriracha provide a unique flare to kitchen staples by infusing them with hand-picked, flavor-packed ingredients like gochujang chili paste to revamp ordinary taste to make extraordinary pairings. Starting with strategically sourced, beautiful ingredients, every bottle of deliciousness is infused, mixed, packaged, and shipped from the Northeastern Region in the U.S.
"We understand everyone from foodies to Michelin Star chefs are constantly looking for new flavor combinations to elevate their favorite recipes. Bushwick Kitchen wants to help fans unlock their creativity and adventurous side when it comes to cooking. We want to make cooking a fun, flavorful experience for all," said Doll.
While talking with Dan, Mark Alyn tastes some of the Bushwick Kitchen products and loves them!
Dan Doll is the CEO of Bushwick Kitchen. He is an American University alumnus who graduated in 2010 with a double major in business administration & Communications, Legal Institutions, Economics and Government (CLEG). After graduating he worked for Fortune 500 company IBM as well as Livingsocial before devoting his full-time career to running two brands, Bushwick Kitchen and Soapbox.
To learn more about Bushwick Kitchen, visit bushwickkitchen.com.
Listen to Dan and Mark here:
And you can watch them here: