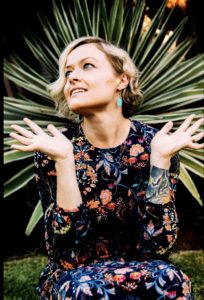 Anne Hodder combines 12 years of writing and editing with a professional journalism and sex-education training to offer clients a unique perspective and valuable skill set. Hodder is a cum laude graduate of the Roy H. Park School of Communications at Ithaca College, where she studied journalism, gender sociology and human sexuality, and is certified and endorsed by renowned sex educator training program San Francisco Sex Information (SFSI) and the American College of Sexologists International. She joins with Mark Alyn for a frank chat about sex in older people.
With a special skill for conveying complicated, sometimes sensitive information in a sex-positive, accurate and expert manner, Hodder successfully informs, prepares and promotes clients and their brands to help lead them onto even more successful paths.
Hodder also provides one-on-one and group workshops at special request via the Los Angeles Academy of Sex Education.
Sex After 50 With Anne Hodder
Sex After 50 with Anne Hodder Part 2