Hearing Issues Affect Millions of People – Don't Let This Happen to You – 
Naturally Sassy!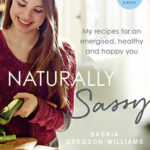 Sassy Gregson-Williams is the founder of Naturally Sassy, a fitness and food online global platform, a ballerina, certified personal trainer, and cookbook author. Growing up as a professional ballerina, an injury caused Sassy to cut her career short and become involved in health to help heal herself. At just 16 years old, Sassy became an entrepreneur and launched the Naturally Sassy platform, as well as a best-selling cookbook.
She has since launched the Naturally Sassy Online Studio, where Sassy teaches her premier class "Ballet Blast by Sassy" virtually to everyone from elite athletes, to women with office jobs, to mothers. Unlike many fitness classes which involve clenching and shortening the body, this whole-body approach to movement uses your body as resistance to burn fat and create long, lean, sculpted muscles like that of a ballerina. Both strength and flexibility are prioritized, and the workouts can be done at home with minimal equipment. It is currently streamed in over 60 countries globally.
In 2018, she launched the Naturally Sassy app — which combines the workouts and meal plans of Sassy's delicious plant-based recipes. Sassy continues to run and grow her brand out of Los Angeles, hosting popup classes across the US and speaking to millennial about body confidence and health.
Her mission is to inspire people to love the skin they're in through inspiring movement and great tasting, feel-good food. You can connect with Sassy on her website.
Naturally Sassy
Naturally Sassy Part 2