The Story of Brian and Servet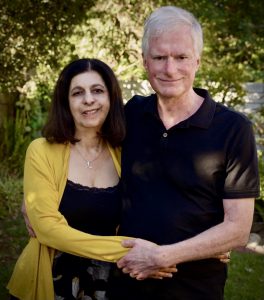 Brian McGowan is a former Wall Street management consultant. He is currently writing a book entitled, "Just Another Day of Hell in Paradise," which chronicles the epic journey of his wife's illness. Due to a rare liver condition that left her in a state not unlike the boy in the bubble, she was unable to win the battle, and died on a beach in Hawaii in 2015.
Servet Hasan is a best-selling author, public speaker, and radio host, among other media endeavors. She has published several books for Llewellyn Worldwide Publishers, and her latest, "Growing Old Sucks, But It Doesn't Have To," which she co-authored with Mark Alyn.
Both in their sixties, they initially connected when Servet agreed to consult on Brian's book. Having lost her husband over two decades ago, and Brian a recent widow, the two struck up a conversation that moved beyond business into their own personal struggles. Each conveyed how difficult it was to find intimacy again, or frankly, whether either of them dared to take that leap of love in the first place.
One thing led to another and after two months of phone conversations (Brian lived on the East Coast and Servet on the West) they decided to meet.  Unsure of the outcome, they both approached the meeting with trepidation. Passed their prime, neither believed that "movie magic" love existed.
But they were both pleasantly surprised. Much to their delight they immediately fell in love. Brain ended up staying in California for several months and when he returned to New York Servet joined him.  Now the two live together in California and are forming a corporation that will incorporate all of their writing projects, as well as other creative enterprises.
Listen to the conversation here: