How to Prevent a Multigenerational Home Thermostat War This Winter
By ANDREW ARMSTRONG, vice president of sales and marketing, Fujitsu General America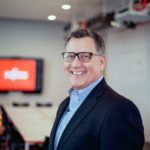 Multigenerational households are on the rise with a record one-in-five Americans living in homes shared by multiple adult generations,inevitably leading to various domestic conflicts – including home temperature.
Here are some practical tips that can help prevent the dreaded Thermostat War this winter: 
Get "Smart" About Home Temperature
Smart home tem­perature control includes Smart HVAC Systems and Smart Thermostats. Smart systems have built-in Internet capability and don't need additional equipment. Smart Home Thermostats create "smart" sys­tems through a mobile or Internet-con­nected device or voice-operated home automation system. Manufacturers like Fujitsu General America offer Smart Systems and options to control systems using a smart thermostat.
Increase Family Peace AND Energy Efficiency
Upgrading your system and install­ing a smart thermostat can sig­nificantly reduce your utility expense. The most energy-efficient heating and cooling products on the market, ductless mini-split systems, can save as much as 25 percent on your energy bill. Further, an efficiently controlled thermostat could save an additional 10 percent a year.
Give Everyone A Voice
Everyone can "voice" their temperature preferences. Most manufacturers offer apps that enable systems to be controlled from anywhere using a mobile device. Now, voice-control capability uses digital assistants to ver­bally dictate temperatures. For instance, Fujitsu offers a free FGLair app that enables control via mobile devices and voice control via Ama­zon Alexa.
Enjoy Customized Comfort
Ending home climate conflicts, mini-splits feature custom zone control, letting homeowners connect two to eight indoor units to one outdoor unit.  Each zone has its own thermostat so occupants can customize each room. Only occupied areas are heated which means major savings considering kitchens, dining rooms, living rooms, and bedrooms are unoccupied 40 percent of the time.
Come Together for Family Time
Don't let conflicting temperature preferences overshadow the blessing of multigenerational family bonding.  Simple adjustments and compromises can go a long way. For example, those who are cold can wear a sweater, throw on a blanket, or use a space heater.  And, there's nothing like gathering around the fireplace to foster family time.
Andrew Armstrong is the vice president of sales and marketing for Fujitsu General America, a national manufacturer with distributors in local communities across the country, and a 30-year industry veteran. For more information, call (888) 888-3424 or visit www.fujitsugeneral.com.
Listen to Andy and Mark Alyn here: