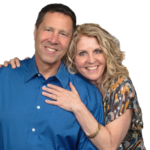 It all started on a beautiful fall day when David went to get a haircut. His barber, Fast Freddie, noticed a lump on his neck and within days, David heard the 5 words no one ever wants to hear… 'You have Stage 4 Cancer.'  During, visits to the doctor, urgent care, dentist and eventually the hospital (for major surgery) David felt extremely stressed. This was also very stressful for and his caregiver/wife, Tamara, who went to every medical appointment. Treatment included 7 weeks of radiation, chemotherapy and finally surgery, and often brought up feelings of overwhelming fear and uncertainty.
David is a survivor of stage IV cancer since 2014. His first-hand experience undergoing scans, radiation, chemotherapy, and surgery profoundly altered the landscape of his consciousness regarding patient and caregiver experience. The waiting room environment, noise, discomfort, and interactions with health-care staff can all contribute to overall stress. It caused David & Tamara to ask the question, "How can patients and caregivers find calm and ease while experiencing a major medical crisis?" Loving Meditations was born from the desire to pay forward the effective tools and techniques to create calm in any moment.
Loving Meditations is guided by the dynamic duo of David Dachinger and Tamara Green, LCSW.
In addition to being a Grammy®-nominated engineer and composer and professional firefighter, David is a Stage IV cancer survivor. Tamara, who took care of David during his illness, is a world-class relationship expert, psychotherapist, caregiver support leader, and hypnotherapist. In addition to the cancer meditation app, they create all of the Loving Meditations' self-care tools that enhance the lives of those touched by cancer… and beyond.
David and Tamara share some stress-reducing techniques to help you get over the COVID 19 crisis. Learn more here: lovingmeditations.com
Hear Tamara, David, and Mark here: