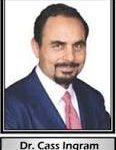 The new coronavirus is sickening thousands globally, including at least six individuals in the US). Americans are buying surgical masks faster than major retailers can restock them.But, did you know there's another virus that has infected 15 million Americans across the country and killed more than 8,200 people this season alone. It's not a new pandemic — it's influenza.
The 2019-2020 flu season is projected to be one of the worst in a decade, according to the National Institute of Allergy and Infectious Diseases, says Dr. Cass Ingram, author of The Cure Is in the Cupboard and two dozen other books on natural cures for infectious germs. At least 140,000 people have been hospitalized with complications from the flu, and that number is predicted to climb as flu activity spreads.
In the 2019-2020 season so far, according to CDC, 15 million people in the US have gotten the flu and 8,200 people have died from it, including at least 54 children. Flu activity has been elevated for 11 weeks straight, the CDC reported, and will likely continue for the next several weeks.
As a population, we are less panicked about the flu because healthcare providers appear to have control over the infection, says Dr. Ingram. The commonness of the flu often underplays its severity, but people should take it seriously.
The flu becomes dangerous when secondary infections emerge, the result of an already weakened immune system. Bacterial and viral infections compound the flu's symptoms. People with chronic illnesses are also at a heightened risk for flu complications.  Those complications include pneumonia, inflammation in the heart and brain and organ failure — which, in some cases, can be fatal.
Dr. Ingram says that the best protocol to avoid falling victim to any transmittable virus is to practice good hygiene.  Primary rule:  Wash your hands!
                                                   After coughing or sneezing
         when caring for the sick
         before, during and after you prepare food
         before eating
         after toilet use
         when hands are visibly dirty
 CLINICAL STUDIES INACTIVATING CORONAVIRUS WITH SPICE OIL
 On a positive note, Dr. Ingram says that clinical studies in major universities are showing that carvacrol, the primary active component in oregano oil, effectively inactivates norovirus and coronavirus.  The compound works by disrupting the tough outer membranes of the virus.
 We have here, with oil of wild oregano and its carvacrol content, a highly efficient natural protocol for addressing colds and flu viruses of virtually every strain. The studies are available online through PubMed.com.
 ABOUT DR. CASS INGRAM
Dr. Cass Ingram is the author of more than two dozen books on health and wellness including The Respiratory Solution, "Natural Cures for Killer Germs", "How to Eat Right and Live Longer", and Natural Cures for Health Disasters."  He is one of the nations leading experts on the use of wild medicinal spice oils.
Learn about Dr. Ingram and the Coronavirius here: