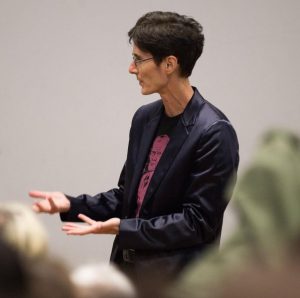 What if no one—gay or straight or bi, trans or cis or nonbinary—was "born that way"?
In GENDER WITHOUT, award-winning psychoanalysts Avgi Saketopoulou and Ann Pellegrini challenge the argument widely embraced by rights activists and members of the LGBTQ+ community that gender identity is innate and immutable.
"There is nothing wrong with being gay, queer, gender nonconforming, or trans, nor is any of these an undesirable or pathological outcome," Pellegrini stresses. "Genderqueer and sexually diverse individuals can and do live full, pleasurable, exciting lives—which is not to say that they are spared the miseries that befall everyone as part of the human condition. Indeed, trans people and queer people should get to have all the feels, including negative or bad feelings."
With a vision of expanding the narrowminded view and treatment of queer and trans people by analysts and society at large, Ann Pellegrini talks about:
Their belief that gender cannot be confirmed or disconfirmed—it simply exists in relation to how it is experiencd at the moment.
Their commitment to telling more complex stories about atypical genders and sexualities—without trying to "fix" or "convert" people who identify with them.
Why the gender identity of LGBTQ+ people is no more reason for seeking therapy than cis straight men's or cis straight women's may be.
How exploring aspects of trans and queer people's gender formation—including traumatic experiences—in a safe space with a therapist can help them heal deep wounds, grow in self-acceptance, build and sustain better relationships, and expand pleasure.
"What about the children?"  At a time when trans kids are at the bullseye of the Christian right, this book gives us fresh arguments for resisting the homotransphobic logics that want all children to be cis and straight.
ANN PELLEGRINI (they/them; she/her) is Professor of Performance Studies & Social and Cultural Analysis at New York University, teaching classes on queer theory and psychoanalysis, among other topics, as well as a psychoanalyst in private practice.
Gender Without Identity is a compelling contribution to opening minds about matters of gender and what counts as normalcy.
Listen to Ann & Mark here: