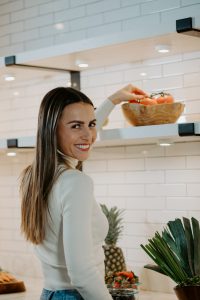 Carolina Schneider, MS, RD, a registered dietitian ​​specializing in plant-based nutrition has followed a whole-food, plant-based diet for her entire adult life. Schneider says the top question she receives from followers is, "How do you become a vegan?" As an advocate for eating more plants, Schneider educates her audiences on practical ways to transition to a plant-based diet safely and successfully. 

Carolina joins Mark on the edition of Late Night Health and answers these questions:
• While the exact numbers of vegans are almost impossible to establish, surveys have shown rapid growth in this popular lifestyle with about 79 million vegans worldwide and even more people seeking a plant-based flexitarian diet.
• As you make the leap to a plant-based or vegan diet, you have to pay close attention to your nutrient intake to avoid energy depletion, cardiovascular complications, bone loss and weakened immune response.
• Top supplements recommended for plant-based diet transitions:
• vitamin B12
• aged garlic extract
• calcium 
• vitamin DCarolina Schneider, MS, RD is a registered dietitian and founder of Hungry for Plants. She specializes in plant-based nutrition and has followed a whole-food, plant-based diet for her entire adult life. Her experience, combined with her passion and knowledge, equip her to help others better understand the nutritional benefits of food and how to incorporate them into their everyday lives. Originally from Brazil, Schneider is fluent in Portuguese, English and Spanish. She received degrees in journalism and public relations, which have given her the foundation to become an educator and influencer on the plant-based lifestyle. She frequently posts nutrition tips and recipes at "Carolina the Green RD" on Instagram. Schneider obtained her Master of Science degree in Nutrition & Dietetics, and is passionate about nutrition science and helping individuals improve health and wellbeing through food.