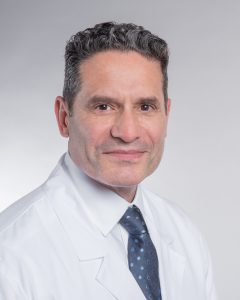 Dr. Paul Wright is senior vice president and system chair of the Neuroscience Institute at Nuvance Health. He is a board-certified neurologist with over two decades of experience and subspecialty training in cerebrovascular disease such as stroke.
Dr. Wright has extensive research experience including studying the effectiveness of novel therapies such as electroceuticals to treat neurological diseases.
Dr. Wright believes it is very important to collaborate with his patients in order to provide the best possible and appropriate care. Healthcare can seem complicated at times, which is why Dr. Wright takes time to clearly explain and provide a rationale for a diagnosis, testing and treatment. He also emphasizes preventive care to stay well and aid in healing from illnesses or injuries. Dr. Wright enjoys traveling, photography, music and martial arts.
Dr. Wright visits with Mark Alyn on this episode.
Nuvance Health is a family of award-winning nonprofit hospitals and healthcare professionals in the Hudson Valley and western Connecticut. Nuvance Health combines highly skilled physicians, state-of-the-art facilities and technology, and compassionate caregivers dedicated to providing quality care across a variety of clinical areas, including Cardiovascular, Neurosciences, Oncology, Orthopedics, and Primary Care. Nuvance Health has a network of convenient hospital and outpatient locations — Danbury Hospital, New Milford Hospital, Norwalk Hospital and Sharon Hospital in Connecticut, and Northern Dutchess Hospital, Putnam Hospital and Vassar Brothers Medical Center in New York — plus multiple primary and specialty care physician practice locations, including The Heart Center, a leading provider of cardiology care, and two urgent care offices. Non-acute care is offered through various affiliates, including the Thompson House for rehabilitation and skilled nursing services, and the Home Care organizations. For more information about Nuvance Health, visit nuvancehealth.org
Listen to Dr. Wright and Mark here: