Jonathan Wiggenhorn, DO
Otolaryngology-Head and Neck Surgery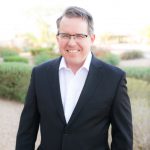 Most doctors don't experience first-hand many of the conditions they treat, but Dr. Wiggenhorn is the exception. Having battled severe allergies and chronic sinusitis personally, he is able to deliver knowledgeable and compassionate care to his patients. "I know how it feels to have your quality of life altered by severe allergy symptoms," he says, "and I also can tell you there are things we can do to make a difference in how you feel!"
Dr. Wiggenhorn is board certified in otolaryngology and facial plastic surgery and earned his medical degree from Western University of Health Services in Pomona, CA where he served as Vice President of his class and was elected to join Sigma Sigma Phi, a National Osteopathic Honor Society. He completed his internship at Henry Ford Hospital in Detroit, Mich. and his residency within the St. John Health System affiliated with Michigan State University.
Prior to opening Estrella Ear, Nose and Throat in 2010, Dr. Wiggenhorn was in private practice in Asheboro, North Carolina. He is an Associate Clinical Professor at Midwestern University and continues to serve as the official ear, nose and throat physician for the Cincinnati Reds during spring training.
Outside the office, he enjoys the Arizona climate by golfing, mountain biking, hiking and spending time with family and friends. For information about Dr. Wiggenhorn visit www.estrellaent.com.
Listen to Dr. Wiggenhorn and Mark Alyn here:
And watch them here: