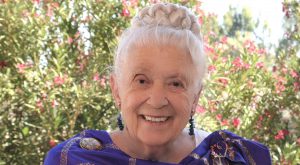 We all want to know the secret to leading a long, happy life, so who better to ask than someone who is 102 years old? And all the more qualified as a doctor, and the mother of holistic medicine.
This expert is Dr.Gladys McGarey, and in her new book THE WELL-LIVED LIFE: A 102-Year-Old Doctor's Six Secrets to Health and Happiness at Every Age (Atria May 2, 2023), she shares a philosophy for living life to the fullest that has healed thousands of her patients and that has guided her own life for over a century.
In 1978, Gladys co-founded the American Holistic Medical Association with the goal of bringing a holistic understanding—one that unites body, mind, and spirit—to modern Western medicine. Informed by this philosophy, her book The Well-Lived Life flips our understanding so we ask not how to live a life but instead how to turn toward the life that's within us.
From encounters with Mahatma Gandhi to overcoming bias against women physicians amid raising six children, Dr. Gladys has incredible stories to share and six profound principles for living:
You are here for a reason
All life needs to move
Love is the medicine
You are never truly alone
Everything is your teacher
Spend your energy wildly (even if you're 102!)
THE WELL-LIVED LIFE affirms that anyone in any condition has the power to shift their habits and mindset to
live life more joyfully.
ABOUT THE AUTHOR:
Dr. Gladys McGarey will be 102 years old at the time of this book's publication and she is a still-consulting doctor. Recognized as a pioneer of the allopathic and holistic medical movements, she is also a founding diplomat of the American Board of Holistic Medicine. She is the cofounder and past president of the American Holistic Medical Association, as well as the cofounder of the Academy ofParapsychology and Medicine and the founder of The International Academy of Clinical Hypnosis. Dr. Gladys lives and works in Scottsdale, Arizona, where for many years she shared a medical practice with her daughter. She currently has a medical consulting practice, maintains a healthy diet, and enjoys a good piece of cake every now and then.  
Listen to Dr. Gladys & Mark here: