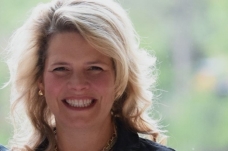 The overwhelming narrative in the U.S. is that caregiving for older adults is a burden to bear and a problem to be solved. In her new book,
Positive Caregiving,
Sarah Teten Kanter, Ph.D., offers a different perspective and a practical methodology that combines elements of positive psychology, mindfulness, reminiscence therapy, and lifestyle medicine to help make caregiving and care receiving a more positive and meaningful experience.
"For many of us, giving and receiving care is inevitable – not an if, but a when. Positive Caregiving offers an approach to caregiving that can help make it a time to savor and an opportunity for personal growth," says Teten Kanter. "Throughout my years of research, I have discovered that most often the person who needs the most support in adjusting to the reality of caregiving isn't the person who is ill, injured, or adapting to new age-related changes, it's the caregiver."
Positive Caregiving walks caregivers through four pillars of Positive Caregiving: Perspective, Savoring, Reminiscence and Growth to help readers better understand the opportunities that caring for a loved one provides. At the heart of the book is an extensive list of simple activities, conversation-inspiring questions, and self-care practices designed to immerse caregivers and their care partners in gratitude, empathy, forgiveness, love, and awe.
"These five positive emotions are central to caregiving relationships," says Teten Kanter. "Plus, they have been shown to help improve health, reduce stress, and create meaning in daily life."
Positive Caregiving focuses on the emotional journey and personal growth inherent in the caregiving experience, helping caregivers embrace, celebrate, and honor this critical role in modern society. And while geared towards family caregivers, the book is also valuable to anyone who works with, and cares for older adults.
"An important part of this book is encouraging the caregiver to take care of themselves, so they can offer care from a loving and generous heart-center. It is a beautiful marriage of science and compassion to help provide practical guidance to people during what can be a challenging time in their lives." – Nancy Delay, Ph.D.
Sarah Teten Kanter, Ph.D. is on a mission to help people embrace the gift of growing older. She is the founder and CEO of Positive Caregiving, a software and services firm focused on making caregiving and care receiving a positive experience and an opportunity for personal growth. She holds a doctorate and a master's degree in gerontology from the University of Nebraska-Omaha. Prior to pursuing her passion in gerontology, she was the Chief Marketing Officer and Chief Customer Officer at Kenexa, now an IBM company. To learn more visit
www.positivecaregiving.com
.
Listen to Dr. Kanter & Mark here: