Wear Your Pain Away With AlignMed
So many of us live in pain, for one reason or the other. The more we neglect it, the more we experience pain. This can be particularly true as we age. The traditional medical profession has been taught to prescribe medications of various levels, to perform a therapy designed to mitigate it, or to operate. But there are important non-invasive means at our disposal that are becoming increasingly well known as they are used by more and more professionals. Scientifically created garments featuring neurobands are becoming popular around the world. Alignmed is the world-leader in posture apparel that not only gets people into the proper posture, but mitigates pain and stimulates the body's own healing powers.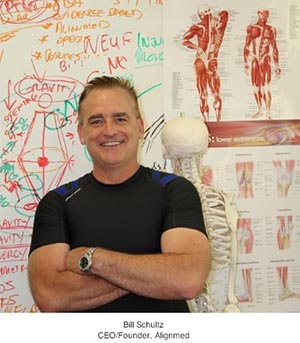 Bill Schultz is the CEO of Alignmed, a powerful force in the world of garments that help people living in pain. He himself was told he required spinal fusion surgery to stop the back pain he was living with 11 years ago. As an executive in orthopedic surgical equipment he knew that surgery would commence the decline of his body and at such an early age of only 44 he set out to avoid it with great passion. He knew the solution was hiding in the early Kinesio style taping that was just starting to be used on our Olympic athletes. But that taping has its limitations. Bill spent the next six years perfecting, testing and validating his products with the help of world-class physicians, professional sports teams in the NFL, NBA, MLB and the NHL, and now has a line up of garments that are FDA Registered, NBA and USGA approved, Medicare approved and Congressionally recognized. Bill never had that surgery and he weaned off the addictive pain meds he was on as well. The line up is used widely today by pain management doctors who have discovered the ability of the Alignmed products to help people who often have no other means of being helped.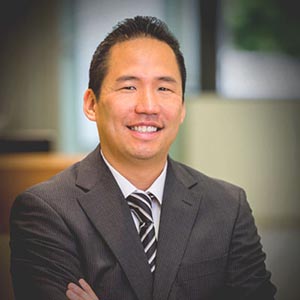 Dr. Eric Chang is one of those doctors who is a pain management specialist and has found that prescribing Alignmed for his patients has proven to be a welcomed part of his pain management routine. He has seen a vast improvement in patients who normally might need addictive medications and/or surgery. Dr. Chang is with Restore Orthopedics and Spine Center in Orange, California. He discovered the power of Alignmed in his everyday practice and has increased his use more and more. Dr. Chang is a classically trained pain management specialist in wellness and the treatment of pain. He treats a wide level of non-operative and low back pain, spasticity, myofascial pain, scoliosis/kyphosis, compression fractures, sciatica and neuropathic pain conditions. He studied at Yale and Albert Einstein College of Medicine, and did his residency at UCLA / Veterans Administration, with a fellowship at UC Irvine. He's uniquely suited to discuss the magnitude and surprising benefits of Alignmed products, as he does in this interview.
The combination of Bill Schultz and Dr. Eric Chang in this interview is a surprising revelation of the power of Alignmed and the non-invasive characteristics patients enjoy in using Alignmed.
See what alignmed is all about:
restoreorthopedics.com/chronic-pain-specialist-dr-eric-chang/
Listen to Dr. Chang, Bill and Mark here:
Part 1
Part 2