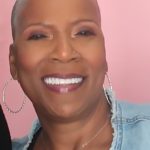 Part of Black history is that throughout the US African American women die from breast cancer at a rate 40 percent higher than other women. But in Los Angeles County, the statistics are 56 percent higher, and, in Long Beach, the mortality rate is 70 percent higher.
That's why the Susan G. Komen® Circle of Promise California Initiative was created… to rewrite this history.
When one joins the Circle of Promise, they help Komen to empower all African American women to get information, support, and gain access to services that could save their lives. That's keeping the promise.
When Donnell White spoke with Mark, she shared the story of her breast cancer journey.
Donnell was diagnosed with breast cancer on the same day as her best friend of 31 years, Patricia Martin. That was on April 27, 2017. Donnell credits Patricia with saving her life as it was she who scheduled a mammogram and insisted that Donnell join her. Donnell tears up every time she shares the story as, unfortunately, Patricia's cancer metastasized to her brain and she did not survive. Donnell has been cancer free since early 2018 and she's paying it forward by encouraging others to be tested. Early detection and early treatment saves lives. It saved Donnell's and she's so grateful to Patricia for that.
What a perfect, although sad, example of the Circle of Promise at work.
Donnell will be participating in Komen Los Angeles County's MORE THAN PINK Walk™ on February 29. You can, too.
Register at komenlacounty.org/walk
Listen to Donnell White and Mark Alyn here: