I'm Sorry – Can You Say That Again? Mark Alyn Talks About Hearing Aids
Overcoming Odds By Oleg Lougheed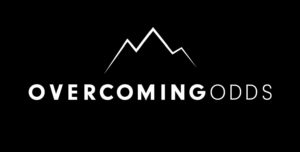 I started Overcoming Odds in order to help others overcome their own odds, and show people how I've tackled my fears of judgment and rejection. I hope that by sharing my story, you'll be able to share yours.
I was nine years old when I became an orphan. Before I was an orphan, I grew up in a small, cold, and empty apartment in Russia with my older sister, and my mom who was an alcoholic. We were born into poverty. Living without a father and an alcoholic mother forced me to make difficult decisions at an early age in order to survive.
I slept on the street. I stole food. I knew I couldn't do this all of my life. So, at the age of nine, I decided to enter an orphanage thinking it would bring me to a better life. Living in an orphanage had its own set of challenges. For the three years I was there, I was told to forget about my family. I was told to keep my mouth shut. I was too afraid to speak up when other kids were abused.
Despite all of the challenges, it was through the orphanage system that I was able to find my adoptive parents.
12 years ago, I walked into a new family, in a new country, to start a new life.
When I was adopted, I knew that adoption was a step closer toward a better life, but I didn't know the things I would have to give up in order to have that better life. You see, kids who are adopted, have no option, but to change. They have no option, but to give up pieces of themselves, such as:
Birth Name
Family
Friends
Native Language
Culture
Memories
You see, adoption can save lives, but it can also ruin them. It took me 11 years to realize that I never gave up the pieces of my past, but had to figure out how to fit them into the new puzzle of my new life. Most adoptees don't realize this, most adoption agencies don't teach this. Today, I am 24 years old. Today, I am still an orphan, but I am no longer scared; no longer alone. I am no longer defined by a word. Today, I am living a life that I didn't know was possible.
Today, I am on a mission to ensure that every adoptee and foster youth can live the life they have always dreamed of, despite their hardships and misfortunes.
Coming to the U.S. from Russia, meant coming to realize new opportunities. Since being here, I've:
Gained proficiency in English, as well maintained my native tongue
Created a network of close friends
Developed a strong relationship with my adoptive parents
I was lucky enough to be adopted into a stable, supportive family who sent me to a good school, and taught me to trust in myself and my abilities.
But, not all orphans are as lucky as I am though.
It was difficult to accept all of the changes at first, and that's what they are. Not losses, but changes.
Without the hardships – without the changes – I would not have been able to find my true purpose in life.
My purpose in life is to help others, specifically, adoptees and foster youth.
I understand the struggles adoptees and foster youth go through, such as:
Learning a new language
Learning new cultural norms
Relationship building
Creating friend groups
Feeling accepted
Accepting themselves and their past
Since realizing my purpose, I have turned it into my life mission. I am looking for people who have gone through similar struggles and are looking for help to overcome them. Overcoming these struggles can be hard, but I promise you, that if you surround yourself with people who have gone through these struggles, the process becomes much easier. I know this because I have done so.
I still have hard days, but the sun must set in order for the sun to rise again.
If my mission speaks to you, please join me in helping adoptees and foster youth around the world Stand Up & Speak Up.