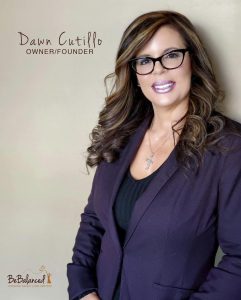 Dawn Cutillo is the owner of a successful holistic health center outside of Philadelphia called BeBalanced Hormone Weight Loss Centers, now being franchised throughout the country. With 25 locations and 18 more in the works, Entrepreneur magazine named it in their top trending franchises in 2020. She's also the author of The Hormone Shift.
Dawn has been a guest on national daytime talk shows, magazine & news programs on issues of hormone health, anti-aging, sexuality, weight loss, detoxification and stress management.  She's appeared on CBS The Doctors, The Meredith Vieira Show, Daytime, Fox, & Tribune. Dawn was also a monthly guest on the Fox affiliate Philadelphia station WFYL, The Balanced Life show. Her message of "natural hormone balancing" is empowering to women who have been frustrated with the lack of medical and holistic answers on issues of stubborn weight as well as PMS and menopausal symptoms such as hot flashes etc. 
Ms.Cutillo has been in the health field for over 30 years, concentrating in the area of natural hormone balancing. Cutillo's passion and devotion to "natural hormone balancing" started after she spotted a disturbing trend with women over 35 struggling to lose weight, even with diet and exercise. As a result, Dawn started a unique hormone balancing weight loss program called "Becoming Balanced" that specifically targets imbalanced levels of estrogen and progesterone as well as cortisol and insulin. These hormones must be regulated as women approach menopause and is the key to a balanced life. The program's remarkable success has helped thousands of women drop pounds while also reducing painful and annoying PMS & menopausal symptoms.
The Becoming Balanced program is now nationally operating through franchise locations called BeBalanced Hormone Weight Loss Centers. (BeBalancedCenters.com). In 2013 Dawn partnered with her brother David Cutillo to franchise and since then, they have opened 25 franchise locations on the East coast and a few out West. The Dallas Texas area has just been contracted to add 18 centers within the next few years. They continue to expand the franchise locations across the country, which consistently aid women all over to balance their hormones for weight, mood, sleep and health issues.
In 2009, Dawn spearheaded a breast cancer research project showing a link between hormone imbalance and breast cancer. The study was published in the September 2012 issue of the Original Internist.
Cutillo became the official hormone expert/consultant for Professional Health Products (PHP). PHP has served healthcare professionals for over 30 years, specializing in pure New Zealand glandulars that support the entire endocrine system. Cutillo writes hormone protocols involving homeopathic hormones, glandulars, and transdermal hormone creams for doctors that incorporate hormone therapy into their practices. Learn more at www.BeBalancedCenters.com
Listen to Dawn and Mark here: