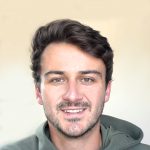 High-end recovery products are all the rage these days, but what about something for the rest of us? Those of us who don't have the need, or the funds to throw out $300-$400 for a massage gun, or even more for compression sleeves?
Enter Symbodi.
Symbodi (www.symbodi.com) is self-massage simplified, as in the first "hands free" mountable massager, with entire recovery bundles available for under $100 USD.
What do we mean by mountable?
Well, Symbodi is equipped with a special suction-base, which can stick to a number of different surfaces — like your wall, countertop, fridge or a door. This means you can hit all of those hard-to-reach places like your lower back, hips and those dreaded calves.
With ambassadors that include U.S. Soccer legend Carli Lloyd, Dallas Cowboys star Ceedee Lamb and Steelers All Pro Minkah Fitzpatrick — Symbodi's two key products, the Vertiball and Vertiroller are both affordable, widely available – including at stores like Best Buy, Target and Walmart and highly thought of from some of the world's best athletes.
Tight calves. Neck pain. Hip pain. All gone within seconds. All with a device that's "hands-free" and can latch onto your wall without leaving any residue. And if you thought athletes loved it, pregnant women have also seen the joys of having something that can reach those tough-to-reach spots via a wall mounting – something that would take booking a massage to reach.
Curtis Kennedy – Bio
My grandfather was an inventor, who instilled in me a belief that the only real limitation to
creation was imagination. Through his influence, I began working on my own inventions at the
age of 7 and filed my first patent application when I was 19.
At 14, I was diagnosed with a cancer that had only been seen 20 times in the NIH's recorded
history of paediatric oncology. After 25 surgical procedures, and 4 years of chemotherapy, I
came out the other side healthy, with a new outlook on life and what I wanted to do with mine.
That period in my life taught me how precious it is to the human experience feel good. It
became so clear to me that joy was directly linked to how good we feel. I spent thousands of
hours in bed dreaming about the future and what I wanted out of it. I envisioned taking my love
for invention and starting a company that created tools to help people feel their best every
single day. I planned to call it BYCB (best you can be). 7 years later, I started Symbodi with the
mission to help bridge the gap between human limitation and human potential by creating
tools that help us feel our best, so we can be our best.
In 2014, I began my first year at the University of New Brunswick to study Mechanical
Engineering. The next year, I started taking Technology Management & Entrepreneurship
courses alongside my degree in the effort to learn as much as I could about how to start a
company. My objective was to start a business while going to school, so that I could have it up
and running by the time that I graduated.
When thinking about the first product I wanted to create, I decided I would try and create a product to help solve one of the biggest sources of discomfort I my own life; back and muscle pain. For many years my go-to treatment tool hadbeen a golf ball that I would lie on top of on the ground as a way to alleviate tension in my back.
When I considered the fact that as a whole, musculoskeletal pain represents one of the world's
most common health problems, I found it hard to believe that myself and so many other were
relying on such rudimentary, inaccessible solutions to treat it. That was why I created our
flagship product Vertiball; a personal muscle care product that uses our patented airlock
mounting system to lock on walls so you can effortlessly target and relieve tense muscles on
your own with total control over how much pressure you apply.
In the 2017 I was accepted to the UNB Summer Institute Business Accelerator Program and I
incorporated the company a few months later. After some early discussions with local
investors, It became clear that until the product was being sold and the concept had been
proven, venture capital financing would not be an option; Especially since I was still a full-time
engineering student at UNB.
As an alternative route, I started approaching banks to see if I
could take out loans to start producing the product. The common feedback was that I needed
put in some of my own money into the business so that I had some "skin in the game". At the
time, I had no money to contribute so I began competing in business plan/model competitions
that had cash prizes.
In 2017-2018 I had a lot of success in these competitions (1st Place |
Canada's Business Model Competition), (Semi-Finalist | International Business Model
Competition), (1st Place | NBEX Pitch competition), (1st Place | Apex Business | Plan
Competition). Through the year, I had won close to $40,000 in prize money from these
competitions which I then used as my "skin in the game" to access the debt financing I needed
to start manufacturing Vertiball. I packed my bags in the middle of the school year and flew
overseas to try and find manufacturers that could produce the product. After a handful of trips,
I had found a great manufacturing partner, and our first 5500 units had been successfully
manufactured.
Eleven months after Vertiball was launched, we went on CBC's Dragons Den and got a deal with Arlene Dickenson. We ended up raising a $520,000 pre-seed round, that went towards
launching our second product Vertiroller, and the development of a number of new products in
the Symbodi Muscle Care Line that will be released in 2023.
Vertiball has generated over $8.0 million in revenue in its first 2.5 years of sales and is endorsed by top tier athlete's like CeeDee Lamb, Minkah Fitzpatrick, Taylor Rapp and Carli Lloyd for its ability to enhance their recovery routine.
Curtis visits with Mark. You can listen here: