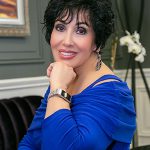 I never tire of watching these transformations and the exhilaration they create. I feel blessed to have found this profession, and it gives me great pleasure to share with those who are interested in learning." Rose Marie Beauchemin-Verzella is an internationally acclaimed permanent makeup practitioner and founder of the Beau Institute of Permanent Cosmetics in Cherry Hill, NJ. She has over 29 years of experience as a business owner and as an industry-leading practitioner and trainer.
Beauchemin founded the Beau Institute in 1990, and her talents and business acumen have allowed it to grow into one of the top permanent makeup institutes in the world. As a practitioner, she specializes in areola tattooing, microblading, and scar camouflage, and she has extensive training in facial morphology, paramedical cosmetics, and color theory. Among colleagues, she is known as 'The Brow Doctor' for her ability to create natural-looking, beautiful, hair-simulated eyebrows, personally designed for her clients' faces. Her success in the industry led her to be appointed, President of the American Academy of Micropigmentation (AAM) in 2016. She currently holds the position of Executive Director.
In addition to her work as a practitioner, Beauchemin is a renowned permanent makeup instructor. Students travel from across the globe to participate in her permanent makeup courses, where her patience and thoroughness allow her to educate her trainees in technical skills while instilling the confidence, they need to launch their own successful permanent makeup careers. Her students have hailed from countries such as Australia, South Africa, India and Egypt. Rose Marie has taught at prestigious medical institutions such as Sloan Kettering, University of Pennsylvania, and City of Hope, Columbia University, etc., etc. Beauchemin is also an active philanthropist. She started the Beau Day of Hope in 2011 where she offer free areola tattooing and scar camouflage annually to breast cancer survivors She is a supporter of the TLC Foundation for Body-Focused Repetitive Behaviors (BFRBs), which provides valuable information and assistance to those struggling with Trichotillomania. Beauchemin has performed countless procedures on clients who struggle with Trichotillomania, as well as Alopecia.
Find out more about Rose Marie at https://beauinstitute.com.
Listen to Rose Marie and Mark here:
Wrap up this edition of the show with words of wisdom from Robert Clancy. You can learn more about Robert at www.guidetothesoul.com