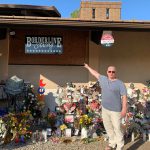 In this Late Night Health special, Mark Alyn discusses the 2022 Hero Porsche 911 from Rusnak Westlake Porsche that will lead the Second Ron Helus Tribute Rally honoring all first responders and the Borderline 12 with Keith Goldberg, the General Manager of Rusnak Westlake Porsche.
The August 7 event is hosted by the Ventura County Sheriff's Office and Ventura County Fire Department in collaboration with Rusnak Westlake Porsche. It is in memory of the 2018 mass shooting at the Borderline Grill and Bar.
Proceeds will benefit the All-Volunteer Ventura County Sheriff's East County Search and Rescue Team and the Ventura County Fire Department's Widows & Orphans Fund.
The Hero 911 Tribute Rally in 2020 raised funds that were donated to the construction of a tactical facility in Camarillo. Two hundred people 105 cars participated.
This year's rally starts at Oaks Christian School in Westlake Village and progresses through Thousand Oaks, Camarillo, Ventura, Fillmore and Moorpark. It concludes at Hummingbird Nest Ranch in Simi Valley with an event that features emergency vehicles, a live auction and gourmet lunch.
Learn more at: www.helusrally.com
Watch Keith and Mark here:
Listen to Keith and Mark here: