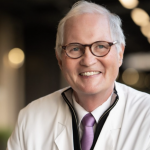 For over three decades, Scott Morris has been serving the underprivileged population of Memphis with free healthcare for the working uninsured (and then some). Formerly and affectionately known as "The Wish Building," Morris' work takes place in a vast converted Sears, Roebuck and Company distribution center. Coming in late October, Scott Morris presents the work of his organization via touching and triumphant human-interest stories in a new book. CARE: How People of Faith Can Respond to Our Broken Health System (Eerdman's Publishing Company – October 27, 2022).
For 35 years, Dr. Scott Morris, physician, minister and author, has served the less fortunate who cannot afford health insurance. The organization Morris has founded and grown is Church Health, and his new book, CARE, is filled with inspiring stories of people getting the care they need. In this faith-inspired work, Church Health's staff encompasses a team of Muslim, Christian, Jewish and Hindu professionals working in their 150,000-square-foot facility with an exemplary climate of diversity and acceptance.
Via the selfless service of Dr. Morris and his staff, Church Health presents an alternative yet successful way of providing quality health care that is charitably funded. With medical clinics, a dental clinic, an eye care clinic, behavioral health services, physical rehabilitation, a teaching kitchen and nutrition guidance, and an on-site partnership with the YMCA that patients can access—all located under one roof at Crosstown Concourse—Church Health cares for the whole person.
"In my experience, I've never felt it was right to turn anyone away who is in need of care. Our mission to provide quality health care to those with no access to health insurance who work 40, or even 20 hours, a week never precludes helping those who don't meet that exact criteria," said Dr. Scott Morris. "And, in the new book, we share case studies of people we've met along the way and follow their stories with how we have grown and learned from these experiences."
Founder and CEO of Church Health, Dr. Morris holds an MDiv from Yale University and an MD from Emory University. His other books include, If Your Heart is Like My Heart: A Pilgrimage of Faith and Health and God, Health and Happiness: Discover Wholeness in Body and Spirit.
Listen to Dr. Morris and Mark here: