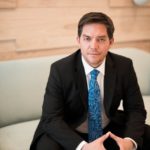 Kalos Facial Plastic Surgery LLC is owned and led by Dr. Benjamin Stong, a world-class facial plastic surgeon with highly esteemed training, experience, and recognition in his field. When it comes to the full range of facial plastic surgeries and skin rejuvenation procedures that Kalos offers, Dr. Stong understands the careful blend of art and science that it takes to create exceptional, natural-looking results.
Dr. Benjamin Stong is among an elite group of facial plastic surgeons in the country who is dual board-certified and fellowship-trained. Dr. Stong is dual board-certified in Otolaryngology-Head and Neck Surgery and Facial Plastic and Reconstructive Surgery by the American Board of Otolaryngology and the American Board of Facial Plastic and Reconstructive Surgery (ABFPRS). He completed his fellowship under one of the most nationally renowned plastic surgeons, Dr. Andrew Jacono in New York. Dr. Stong's distinguished training and unique dual certification means that he is equipped with the highest level of specialization in both cosmetic and reconstructive procedures of the face and neck.
Not only does Dr. Stong carry the most elite credentials in his field, but he is also known for implementing this refined knowledge and skill using a compassionate, patient-centered approach. Tailoring his reputable facial plastic surgery skills to meet the unique needs of each patient is highly valued at Kalos Facial Plastic Surgery, LLC.
Awards and Recognitions
Dr. Stong proudly displays the ABFPRS diplomate logo, which represents board certification and centers of excellence in facial plastic surgery. It also symbolizes the highest level of specialization, education, and certification in Facial Plastic and Reconstructive Surgery and is the first distinctive logo to define which surgeons performing facial plastic surgery procedures are truly board certified in facial plastic surgery.
Dr. Stong has been consecutively named a "Top Doctor" by Castle Connolly. This is a highly respected recognition, based on peer nomination and extensive review that distinguishes Dr. Stong as one of the very best facial plastic surgery specialists in the country.
With such reputable training, proven experience and distinguished recognitions in his field, Dr. Stong's patients have every opportunity to receive the latest, most advanced procedures available in facial plastic surgery. His contemporary techniques are most notably revealed in his ability to perform the deep plane facelift through mini facelift incisions, giving patients longer-lasting results and less downtime and scarring than traditional facelift techniques.
Academic Path
Dr. Stong's training in Head and Neck Surgery provided a foundation in surgical techniques and concepts that is critical to better understanding Facial Plastic and Reconstructive Surgery. Dr. Stong completed his undergraduate education at Emory where he graduated at the top of his class and went on to finish medical school at the University Of Alabama School Of Medicine. He then returned to Emory where he finished his internship in general surgery before completing his competitive, chosen, residency at the Emory Department of Otolaryngology-Head and Neck Surgery, which included extensive experience in Facial Plastic and Reconstructive Surgery.
Following his residency, Dr. Stong succeeded in obtaining a highly sought after a fellowship in Facial Plastic and Reconstructive Surgery in Manhattan and the greater New York area. During his fellowship, he was trained in the most advanced and modern techniques in facial plastic surgery by Dr. Andrew Jacono. Dr. Jacono is among the most recognized facial plastic surgeons in the country and can be seen on Discovery Fit & Health Network and Oprah Winfrey Network on his show Facing Trauma.
Humanitarian Pursuits
Dr. Stong participates in humanitarian efforts at home and abroad. He sits on the national Face to Face committee, which champions against domestic violence by providing pro bono surgery to its unfortunate victims. Dr. Stong is committed to taking his qualifications and talent abroad by traveling to provide free services to children with congenital deformities, including cleft lip and palate surgery. He is also partnered with the Partnership Against Domestic Violence of Atlanta to assist in local domestic violence cases.
Dr. Stong is a second-generation physician who understands how to deliver superior results with the highest quality care. His passion for excellence in facial plastic surgery drives his pursuit to continue to learn and implement the latest trends and techniques in his field. Learn more about Kalos here: kalos-plasticsurgery.com
Listen to Dr. Stong and Mark here: