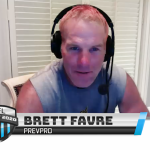 While the NFL draft is being held virtually April 23 to 25, due to COVID-19, decisions have yet to be made about whether games in 2020 will be played with or without spectators in the stands.
These measures may be taken to protect players and fans alike due to the virus.
According to NFL legend, Brett Favre, even more, needs to be done to protect players from what has become "an epidemic of undiagnosed concussions."
"While I've been diagnosed with less than 10 concussions in my life and during my professional playing career, I'm sure I've had many many more. Even more scary are the cumulative effects of all the thousands of minor hits that are sub-concussive in my brain," stated Favre.
Can science cure concussions?
Brett thinks so. That's why he's invested nearly $1 million in PreVPRO and Prevacus, short for "prevent a concussion."
PreVPRO, https://prevpro.com/, is a game-changing advancement for the avoidance of such sports-related injuries, a new, holistic breakthrough, non-opioid treatment for pain, and traumatic brain injuries, including concussions.
Listen to Brett & Mark here:
You can Watch Them Here