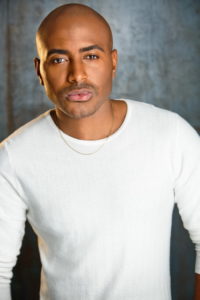 Late Night Health's Mark Alyn speaks with Kenneth Todd. He's part of the 1%… no, not that1%. Only one percent of men are diagnosed with breast cancer.
Kenneth is not only part of that 1% but he's also a millennial… another alarming breast cancer statistic. Thankfully, he's also been, officially, a survivor the past six months and wants to share his journey to educate and help others. He urges testing for anything unusual. That's what saved his life. An actor (One Life To Live) and successful entrepreneur, (Good Credit Builders) Kenneth's non-profit will also have a team of 100 people+ at the MORE THAN PINKWalk™. Others can join him by signing up at https://goo.gl/wNuGED.
Susan G. Komen Los Angeles County's initial MORE THAN PINKWalk™,its 22nd annual event, will be held at Dodger Stadium on Saturday, March 9. Register at https://komenlacounty.org/. Late Night Health is a proud annual in-kind sponsor of Susan G. Komen Los Angeles.
Combating Breast Cancer at Every Front
Susan G. Komen Los Angeles County is the only organization in Los Angeles County that is exclusively dedicated to combating breast cancer on every front. They have one clear mission: to save lives and end breast cancer forever by empowering others, ensuring quality care for all and energizing science to find the cures. Komen studies the unique needs of Los Angeles County every four years to formulate their community profile, which allows them to target grant funding to address the most significant breast cancer issues facing local communities.
Listen to Kenneth and Mark here:
Important Facts
 One in eight women in the U.S. will be diagnosed with breast cancer in their lifetime.
In 2018, about 24,000 new cases of breast cancer are expected to be diagnosed among Hispanic/Latina women in the U.S.
Every 15 seconds, somewhere in the world, a case of breast cancer is diagnosed in a woman or a man.
Every 50 seconds, somewhere in the world, someone dies from breast cancer.
More than 2 million new cases of breast cancer deaths are expected to occur around the world in 2018, which is 24 percent of all cancers diagnosed.
Breast cancer knows no boundaries – be it age, gender, socio-economic status or geographic location.
At the current rate, 13 million breast cancer deaths around the world will occur in the next 25 years.
Komen has been hard at work creating the next evolution in the history of the Race for the Cure series – and the next chapter begins this spring when LA will be one of first affiliate locations across the country premiering the Susan G. Komen MORE THAN PINKWalk™!
Much of what you have come to love about the Race will continue with the MORE THAN PINKWalk™, but with a fresh new look and experience that will energize Komen's community around the lifesaving work your support makes possible. These changes are intended to increase people's connection to Komen's work expanding on breast cancer awareness and the need for early detection. Together we are an impactful community of people who want to do more for our women in LA County. We want to do more for those who are metastatic and living with breast cancer, for breast cancer survivors, and more for research and action to find the cures.
The biggest difference is that the MORE THAN PINKWalk™will focus on connecting Komen's participants to Komen's cause and Komen's community, reflecting the vast majority of the event's participants who historically walk, rather than run, during the event. Komen believes this change will create a greater sense of purpose among participants and will provide a more personalized, emotional experience for all who attend.
The pillars of Komen:
Research:
Understand, prevent and treat metastatic breast cancer.
Discover new treatments and technologies to improve outcomes for all patients.
Increase access to and participation in clinical trials.
Care:
Address gaps in access to and utilization of affordable, quality of care.
Provide access to screening diagnosis and treatment.
Help with transportation, childcare, and more so patients can focus on treatment.
Community:
Provide people with opportunities to share their passion for the movement and compassion for each other.
Support survivors, caregivers and those living with MBC.
Provide information and guidance to help navigate the care journey.
 Action:
Advocate for more research funding and protection for patients.
Educate healthcare providers, policymakers, opinion leaders and the public on the burden of breast cancer.
Empower patients and the public to take charge of their breast health.
About Susan G. Komen® and Komen Los Angeles County
Susan G. Komen is the world's largest breast cancer organization, funding more breast cancer research than any other nonprofit while providing real-time help to those facing the disease. Komen has set a Bold Goal to reduce the current number of breast cancer deaths by 50 percent in the U.S. by 2026. Komen was founded in 1982 by Nancy G. Brinker, who promised her sister, Susan G. Komen, that she would end the disease that claimed Suzy's life. Komen Los Angeles County is working to better the lives of those facing breast cancer in the local community. Through events like the Komen MORE THAN PINKWALK™Komen Los Angeles County has invested $10,535,590 in community breast health programs in Los Angeles County and has helped contribute to the more than $920 million invested globally in research. For more information, call 310-575-3011 or visit www.komenlacounty.org.